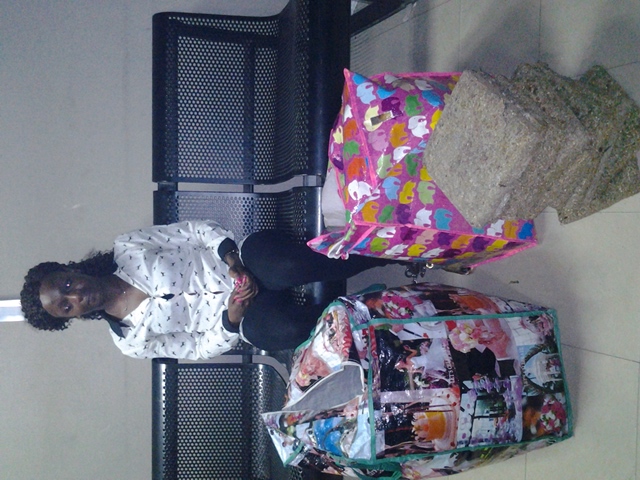 Press Release
As NDLEA Arrests 3 With 58.755kg Of Cannabis At Mmia
The Chairman/Chief Executive of the National Drug Law Enforcement Agency (NDLEA) Ahmadu Giade has called on members of the public to be cautious of plot by drug barons to recruit drug mules in smuggling locally grown cannabis to countries with capital punishment for drugs like United Arab Emirates and China. Giade revealed that the NDLEA had foiled several attempts by drug barons to smuggle cannabis in foodstuff outside the country. Three suspects including a female had been caught with 58.755kg of cannabis destined for Dubai and China at the Murtala Muhammed International Airport (MMIA) Lagos.
According to Giade, "based on intelligence report and intense covert operations undertaken by the Agency, we have recorded arrests of drug suspects and seizures of cannabis concealed in foodstuff. It is pertinent to alert members of the public of fresh plot by drug barons to smuggle cannabis to countries with capital punishment for drug trafficking because of the high profit involved. Drug barons are wicked and callous. They are only interested in making money even at the risk of others sacrificing their precious lives".
While calling on people to resist the antics of drug barons, the NDLEA boss promise to adopt measures aimed at increasing the effectiveness of drug eradication efforts. Such measures include timely detection of drugs and exposure of modes of operation by drug syndicates.
NDLEA commander at the Lagos airport, Mr Hamza Umar gave the names of the three suspects arrested. "The names of the suspects are as follows; Ogbonna Friday Ogbu, 33, caught smuggling 35.115kg of cannabis to China. Famolu David Adebisi, 34, caught smuggling 4kg of cannabis to Dubai and OsamunyiJoy Omas, 26, the only female found with 19.640kg of cannabis on her way to Dubai. The suspects are being investigated" Hamza stated.
Ogbonna Friday Ogbu, a trader in Onitsha main market told narcotic investigators that he was given 100,000 naira to smuggle the drugs. "I am a trader at Onitsha. My friend in China gave me one hundred thousand naira to take a bag to China. The last time I travelled to China, he assisted me. When he gave me the money to take the bag containing gala to China, I thought he was doing me a favour I never knew he was digging my grave. After my arrest, I feel bad and regret my action. I am married with a child" Ogbonna stated.
Famolu David Adebisi who sells laptops in Lagos said that he bought drugs himself. "I bought the cannabis myself for forty-four thousand naira (N44,000). I was introduced into drug trafficking by a friend who assisted me with my travel documents. He told me that if I can bring 4kg of cannabis to Dubai that he will pay me half a million naira. That was what encouraged me to take the risk. I blame myself because I should have listened to my conscience" Famolu lamented. He hails from Lagos State.
The only female suspect, Osamunyi Joy Omas who sells shoes and female hand bags said that she had learnt a bitter lesson. "I lost my parents and I sell shoes and female clothes and bags to earn a living. My friend in Dubai told me that somebody will give me foodstuff to take to him. That was how I collected the bags from the person she sent to me. I still find it difficult that this will happen to me but I have learnt a bitter and painful lesson in my life" Joy who hails from Benin, Edo State told investigators.
The suspects will soon be charged to court.
Ofoyeju Mitchell
Head, Public Affairs