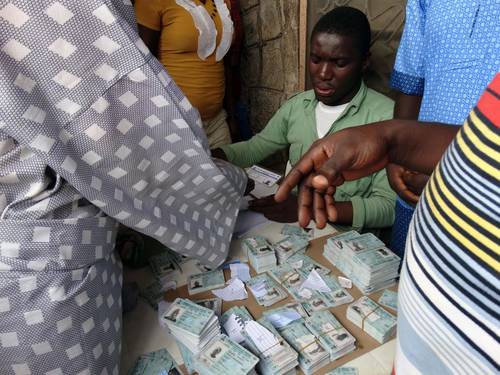 The Independent National Electoral Commission (INEC) in Lagos State on Friday said about 400, 000 Permanent Voters Cards (PVCs) were still being expected from its headquarters for distribution to their owners.
The Resident Electoral Commissioner (REC), Mr Akin Orebiyii, said this while addressing newsmen in Lagos.
Orebiyii pleaded with eligible voters whose cards were among those still expected to be patient with the commission, assuring that the outstanding cards would soon be delivered.
"As at the first week of January, the percentage of distribution of PVCs was hovering around 38 per cent, but as at the end of last week, it was 62.7 per cent.
"But, we are still working seriously because we know that quite a number of people are still yet to collect their PVCs; we want to make sure that they are able to collect these cards.
"As we speak, out of 5,905, 000 cards for Lagos State, we have distributed 3,654,000, but I also need to say that out of 5.9 million, we are still awaiting the arrival of about 400,000 cards.
"As soon as we are able to receive them, we will also be able to push them out so that people can come out to collect them.
"We are expecting additional cards in practically all the 20 Local Government Areas,'' he said.
He said that commission had outstanding cards in some polling units in Oshodi-Isolo, Mushin, Ibeji-Lekki, Ikeja, Ifako-Ijaiye, Badagry, Ikorodu, Agege, Ajeromi-Ifelodun, Eti-Osa, Apapa, Ojo, Lagos-Island, Kosofe, Surulere, Amunwo-Odofin, Somolu and Epe.
"Also, in Alimosho, we want to urge our people to continue to exercise patience, especially in Shasha, Akowonjo, Idimu, Isheri-olofin, Ikotun, Ijegun, Egbe, Agbojo as well as Ipaja.
"These are the specific areas where we are expecting cards, but we have been given assurance from our headquarters that as early as Monday next week, these cards would start arriving.
"Again, we want to appeal to our people to kindly continue to bear with us and exercise patience; we are working to ensure that these cards arrive in time,'' he said.
Orebiyii said that the commission was compiling the distribution for the outgoing week, which could be released by next week.
He said, however, that the commission had no fewer than 1.8 million PVCs not yet claimed in the state.
The commissioner urged owners of the yet-to-be collected cards to find time to pick them up before the deadline on March 8.
Orebiyii said that the commission would go beyond the local governments and distribute the cards at the polling units on Feb 27, Feb 28, March 6 and March 7.
He also spoke on the allegation of sidelining some sections of the community from getting their cards.
"There is no intention on the part of INEC or any of its officials to deny any single ethnic group, any single community or any single individual of his card.
"But, if any person has difficulties, he should let us know,'' Orebiyii said.
He said that the state had received over 12,000 Smart Card readers and they were being configured specially to each polling unit in the state.
"Each smart card reader is configured to work only in a particular polling unit; it cannot work in any other where it is not configured for and no person can use another person's card.
"The issue of stealing or buying cards will come to naught; we want to beg our people to desist from buying cards.
"The issue of cloned cards will not work on that day, if anyone comes with a fake card, such will answer some questions from the law enforcement agents,'' he said.
NAN reports that the commissioner demonstrated how the smart card readers work to add value and credibility to the elections.