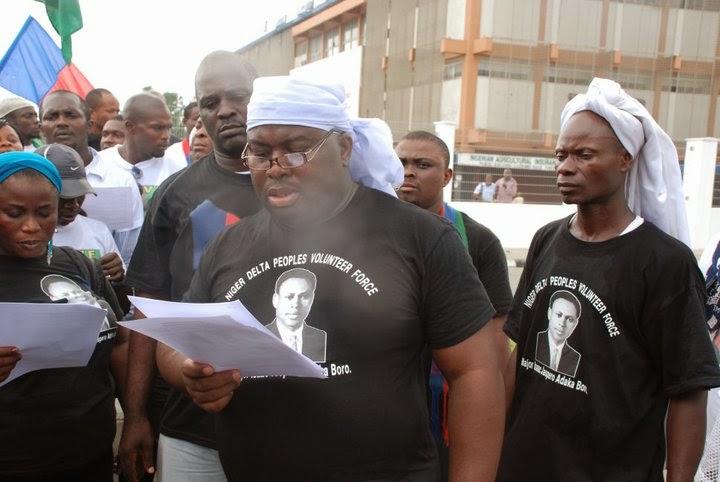 …Says Wike didn't win primaries in Rivers
Leader of the Niger Delta Peoples Volunteer Force (NDPVF) Alhaji Asari Dokubo, has revealed that Movement for the Emancipation of Niger Delta (MEND) is a faceless organisation which does not exist anywhere.
MEND last week issued a statement backing the candidacy of General Mohammadu Buhari, the Presidential candidate of the All Progressives Congress (APC).
But while reacting to the development in an interview with journalists at the weekend, Asari Dokubo said the name Gbomo Jomo, who always signed statements on behalf of MEND is not known to any Nationality in the Niger Delta region.
Dokubo said: "Our people says birds of the same feathers flog together, it is not strange that this organisation is endorsing Gen. Buhari. First, I have always maintained that there is nothing like MEND. When I was in prison, the organisation I lead, NDPVF, the NDPSF and other organisations came together to stop arrest and they wabted a faceless organisation, some guys including Henry Okah were sent to me in Kuje prison for us to get a name and to get my opinion on what they were going to do, I accepted though majority of members of NDPV resisted it, I told them that we should be faceless and so they formed MEND.  Gen. Taminu supposed to be the head, it does not exist, Alaibe was supposed to be secretary, it does not exist. Gbomo Jomo, which is not a name known to any nationality in the Niger Delta does not exist."
On the allegation made by president Jonathan that Henry Okah planned to assasinate him, Dokubo said "what the President said is belated. The President had known since 2007 that Henry Okah wanted to kill him. For saying it, it is the fault of Ijaw leaders including Clarke who have been saying hide this thing. Sweep it under the carpet. And one day, the debris under the carpet will become too much that the carpet will be undulated.
"Now, it is undulated, the stench is coming out and the President could no longer hold it. He has now come out to say Henry Okah wanted to assassinate me which was true. Henry even said that the President and myself are not ijaw people.
He debunked media reports credited to him that he was going to invade Yoruba land, saying "There was no such statement. Everybody knows that when I make a statement, I own up to it. There is no such thing. I never made it. You know, a lot of times, they ascribe a lot of things to me."
Reacting to Wike's emergence as PDP governorship candiate, Dokubo, who said he is not a PDP, declared that he is not happy with Wike's candidature.
"That is the truth of the matter because one group of people cannot perpetually rule a state that is multi-ethnic, multi-national. That is wrong and whoever took the decision, due process should have been followed where everybody should be given the same opportunity. You cannot hand over the structure of the party and expect that other people should come and contest election with him. It is very wrong.
"But having said that, Wike has been given the ticket. He did not win the primaries. That is the truth because there were no primaries. But having said that, my small community whether has been given a deputy governorship candidate slot. My cousin is the deputy governorship candidate to Wike. My younger sister is the House of Reps candidate in PDP. They gave her. Now, I am in a dilemma. So, I cannot go against my community. That is the truth because If I go against them, I wouldn't have the support base."