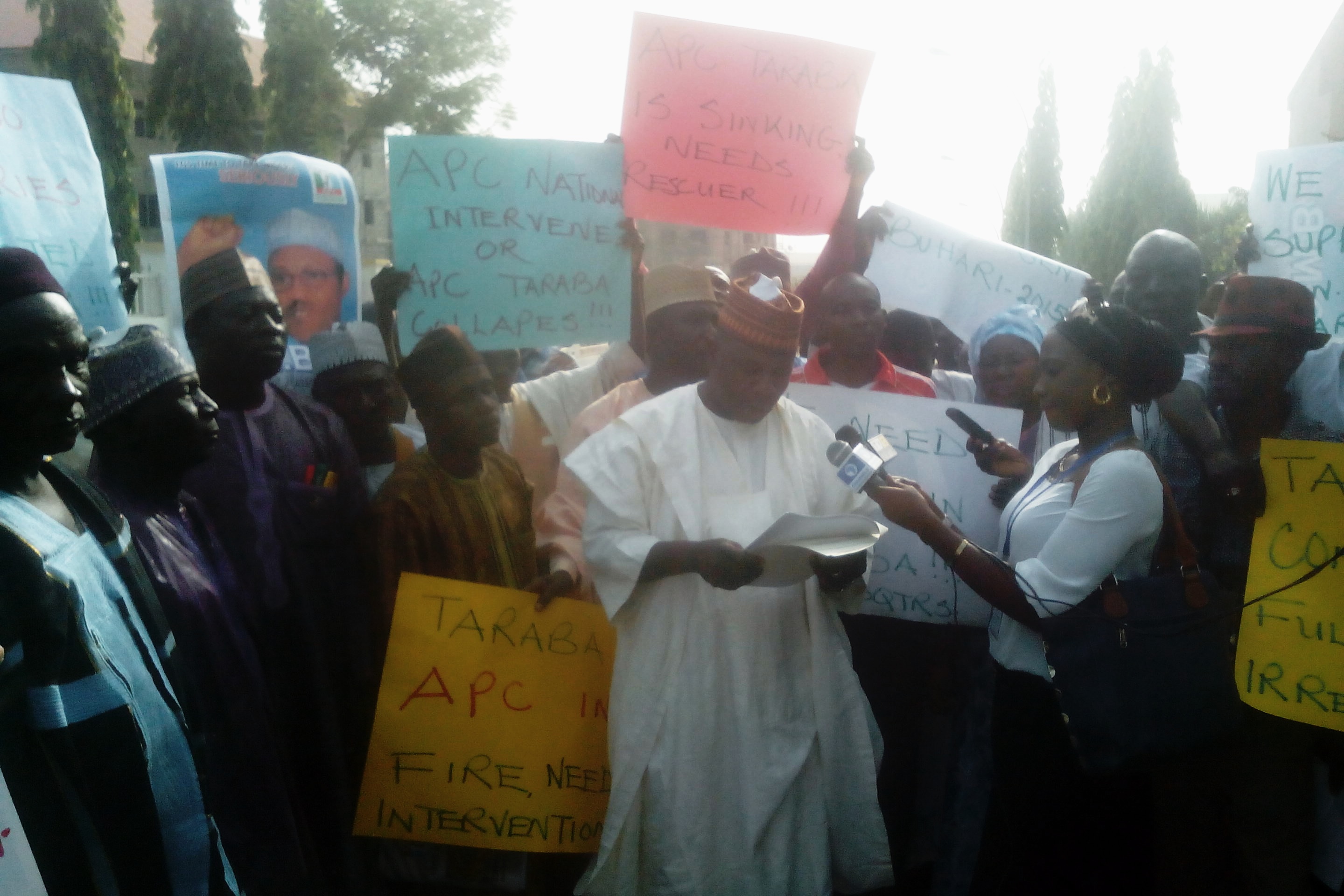 The crisis rocking Taraba state chapter of All Progressives Congress (APC) seem to be far from over as members of the party in their numbers yesterday stormed the National Secretariat of the party, alleging injustice and imposition of governorship candidate by the National officers of the party.
The protesters carrying various placards with different captions such as "Taraba APC on fire, need intervention, We need justice in Taraba APC, Kangaroo primaries, We absolutely support Buhari" and so on, temporarily disturbed vehicular moment at the party office.
While addressing journalists Alhaji Sanusi Maigari, who led the protesters said several letters have been sent to the National Secretariat of their party concerning what he called injustice as a result of governorship primaries conducted in the state but non of those letters were attended to.
To this end, the agrrieved members therefore gave the party only one week ultimatum to resolve the crisis rocking the state chapter of the party, stressing that they might as well forced to go to court if the party decided to turn deaf ear to their complaint.
He said that, for now APC Taraba only recognise General Buhari and would not work for any other person, noting that, some people in the state are working with some highly placed individuals at the APC national secretariat to frustrate their effort in bring peace to the state chapter of the party.
Said he, "we the majority members of APC Taraba state shall no doubt ensure a victory of the presidential election in Taraba state, but for the gubernatorial if the blunders are not corrected urgently it may be a nightmare we have restraint adequate perseverance for the injustices shown to us in Taraba state.
"We eagerly await your just, fair and democratic decision that shall nullify and remove the perversion and travesty that purports to be and is passed off as a gubernatorial primary election worthy of All Progressives Congress, APC; indeed, our noble party",  he maintained.