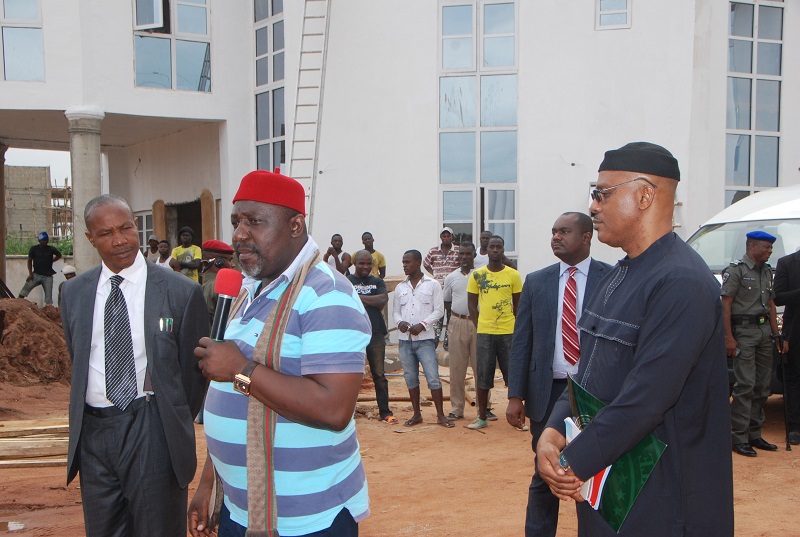 A well publicized students' rally for Governor Rochas Okorocha of Imo state yesterday degenerated into a violent protest against the governor leading to a major security breach following invasion of the government house by irate youths.
As early as 8.30 am yesterday throngs of students and youths from all walks of life had gathered at the Governor Rochas Okorocha Campaign office along Okigwe road.
They had been gathered by the Executive Assistant to the Governor on Students Affairs, one Godstime Samuel, for a solidarity rally in support of the re-election of the governor under a strange platform called the National Union of Imo State Students (NUISS).
Loading ...
The students who turned out in their thousands were drawn 80 each from each of the 27 council areas in the state. They students indeed staged a massive rally and roadshow for the governor and reconvened at the freedom square where they were addressed by the Commissioner for Lands, Chief Uche Nwosu and later the governor himself who promised them N4million.
At the end of the rally, the Executive Assistant,  Godstime Samuel presented  the sum of N1.5million to be shared among over 10,000 young men.
It was however not clear the reasons given by Samuel; whether N1.5million was all that was provided by the governor or whether he put the rest of the money to other uses, but the students would not buy any of the story.
And in the confusion that followed, Samuel disappeared from the scene. Angry and unable to locate their contact man for explanations and completion of the money, anger led to frustration and a massive student rampage erupted.
Now chanting solidarity songs in favour of the PDP and its governorship candidate, Chief Emeka Ihedioha, the youths marched into government breached the main gate and a near stampede ensued in government with government house workers scampering for safety.
The action of the students who were virtually unchallenged saw government house workers fleeing to, as far as the Governor's lodge for safety.
Finding no one to address their grievances, the students vandalised and destroyed anything that stood in their way.
The governor's posters and billboards were torn to shreds, Street lampholders, APC flags along the government house drive-in were destroyed and traffic was grounded to a halt.
The students were only restrained when a detachment of combat-ready policemen were drafted to the scene. The police had to shoot several cannisters of teargas to dislodge the defiant young men.
The incident forced workers at commercial banks along the bank road area near government house to close down and flee their offices for fear of vandalised ion and teargas.
212 total views, no views today