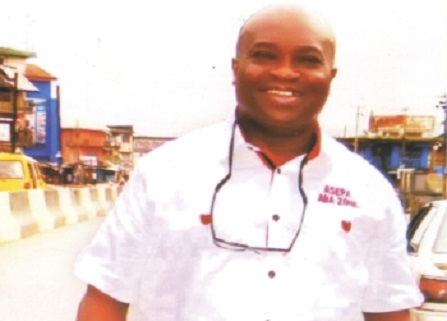 It was a carnival of sorts along major streets of Aba , the commercial capital of Abia state yesterday as the city literally stood still for the  candidate of the Peoples Democratic Party (PDP) , Dr. Okezie Ikpeazu in the 2015 governorship election during a million march organized in his  honour by the Nzuko Ohanaeze Ngwa La Ukwa group.
The million march which commenced from the Ngwa High School along Aba –Owerri road through the Asa road at the city centre before emptying into the Enyimba Stadium, featured youth groups, market women, party faithful, traditional rulers, among others which caused gridlock on roads within the city centre.
It was a happy day for Dr. Ikpeazu as the capacity crowd sang his praises while other ran after his convoy with shouts of "Okezuo Abia", "Okezuo Abia ", Okezue Abia."
Speaking at the occasion, National Chairman of the Nzuko Ohanaeze Ngwa La Ukwa,  Barr. St. Moses Ogbonna, the million march was organized to present Ikpeazu as their choice governorship candidate of the Ukwa/Ngwa people in 2015.
According to the chairman, "we are handing Dr. Okezie Ikpeazu over to the people of Aba to vote him in as their governor in 2015. We are calling on the residents of Aba not to be deceived by those who preach hate. Dr. Okezie Ikpeazu is the choice of the Ukwa/ Ngwa people."
Ogbonna commended Gov. Theodore Orji for his courage and insistence that power shifts Ukwa/Ngwa extraction in 2015, warned the capacity crowd to shun the antics of the APGA governorship candidate, Dr. Alex Otti who he said, hails from Arochukwu in Abia North, but claims to be a native of Umuru Umuehim Nvosi in Isiala Ngwa South.
Speaking for the traditional rulers at the occasion, Eze Nguma Iroegbu of Nenu Autonomous community said Ukwa/Ngwa traditional rulers have confidence in the PDP governorship candidate that he would not disappoint the people.
Eze Iroegbu assisted by other monarchs later conferred the chieftaincy title of Ogbuhereuzo 1 of Ngwa land on the PDP governorship candidate.
While thanking the traditional rulers, Aba residents and the Nzuko Ohanaeze Ngwa La Ukwa for organizing the million march, PDP governorship candidate, Dr. Okezie Ikpeazu promised to rebuild Aba and ensure that there will be no pothole in the city within six months of his swearing in as governor.
He vowed to build his achievements while serving as the deputy General Manager of the Abia State Environment Protection Agency (ASEPA) in charge of Aba to rehabilitate roads in the city.
75 total views, no views today