The Nigeria Police operating under the code name "Operation Kpochapu" have arrested some suspected fake number plates manufacturers specialised in car robbery in Anambra State.
The suspected criminals were among the over 40 suspects, both men and women, paraded on Mondayin Awka by the Anambra State Police Command.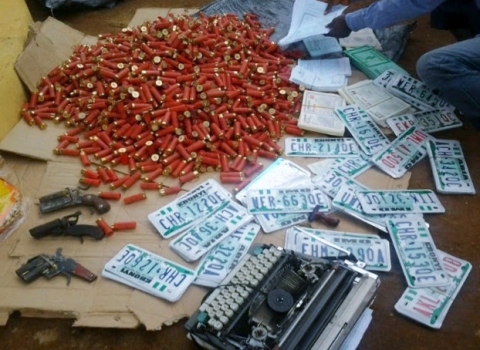 Other suspects were arrested for armed robbery and kidnapping.
They were arrested within a space of two weeks in Onitsha, Nnewi and Awka, some town within the state, where they have been carrying out criminal acts.
Briefing reporters, the State Commissioner of Police, Hassan Karma, said a group among the criminals, specialised in church armed robbery, attempted a bank robbery during the weekend in Awka which led to the death of the leader of the gang and a mobile police official on duty at the bank.
Also among the suspects was a woman who used her father's house to keep kidnap victims.
Various arms and ammunition used by the suspected hoodlums were also displayed.
The Police boss said that the efforts of the police were in line with the vision of the Inspector General of Police and that of the governor of Anambra State, Willie Obiano.
"There has been a resolve by the police to police the state along with the society through community policing and institutional collaboration," he said.
Mr Karma said that the police would continue to work through intelligence led policing to make Anambra safe for citizens and investors.
He further urged traditional rulers to support the war against criminals by talking to their subjects to live right and find legitimate means of livelihood.