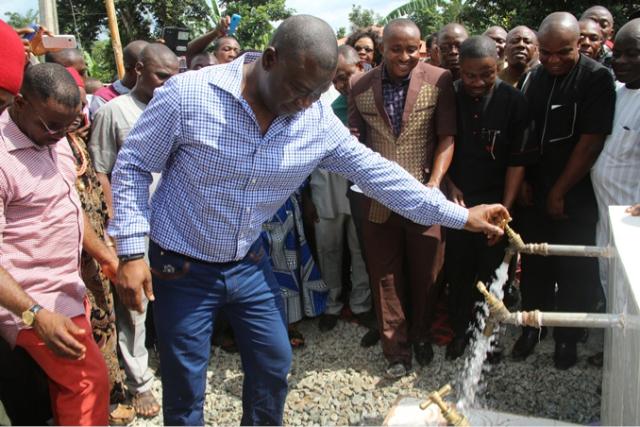 …Legislative Council leadership impeached, suspended
The senatorial contest between the Deputy President of the Senate, Senator Ike Ekweremadu and Governor Sullivan Chime is set to claim another casualty as the Awgu Local Government Legislative Council, today, served a Notice of Impeachment on the Council Chairman and Governor's loyalist, Hon. Mathanus Nnanna Nze.
In a Notice of Impeachment signed by six out of the eleven Ward Councillors that make up the legislative body, the Councillors accused Hon. Nze of gross misconduct, lack of accountability, corruption, and sponsoring political violence against Legislative Council.
The Legislative Council in its resolution said it had "noted with serious concern the total collapse of governance in the Council and the brutality and bare-faced dictatorship perpetrated Hon. Nze and his cohorts."
It added: "Noting that apart from poor budget implementation, lack of accountability, and retirement for contracts not executed, there are outright acts of brigandage and the management of the Local Government a private estate.
"And noting that the Council Chairman has persistently ignored summons by the Legislative Council to account for his stewardship since January 4, 2012.
"We, pursuant to our constitutional mandate as the people's parliament, hereby serve a Notice of Impeachment on Hon. Mathanus Nnanna Nze, the Chairman of Awgu Local Government in accordance with the Local Government Laws of Enugu State, Nigeria."
The Legislative Council said it had activated necessary legislative due processes towards the impeachment and notified the Chairman of the Council accordingly.
It also elected Hon. Olisa Solomon Okolo, Ituku/Isu/Agbudu Ward, as the new Leader and head of the Awgu Local Government Legislative Council.
It could be recalled that the Legislative Council had
on Tuesday
impeached and suspended its leadership believed to be loyal to Governor Sullivan Chime for alleged anti-party activities, political violence, and sabotage of Awgu political interest.
In a resolution passed by eight out of a total of eleven Ward Councillors, the Legislative Council accused its former leadership of conspiring with the Council Chairman, Hon. Nze to allegedly hire the armed political thugs that allegedly invaded the legislative chambers and unleashed mayhem on its members.