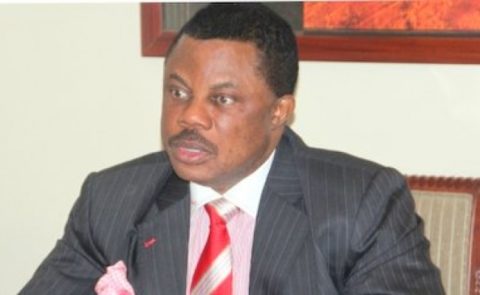 Governor Willie Obiano's pursuit of excellence in Anambra State has continued to resound across the world as the investment community recently responded to his economic programmes by investing a whopping $382.3m (N62bn) into various strategic economic segments in the state.
Out of this sum, a total of $220m was signed in at the weekend when two major investors decided to swoop on the agricultural and tourism sectors of the state. The companies are Joseph Agro Ltd which pumped in the sum of $150m into the Omor Rice Mill project in Ayamelum Local Government Area of the state and Cardinal Developers Trust Ltd which is investing the sum of $70m in a four-star hotel project in Onitsha respectively.
Joseph Agro Limited, a subsidiary of Bravura, one of Nigeria's major energy firms and its technical partner, REI Agro Commodities, the world's leading rice producer has by this agreement taken over the Omor Rice Mill with its 10,000 hectares of virgin land and the 3,850 hectare Lower Anambra Irrigation Project.
Speaking at the MoU signing ceremony in Awka at the weekend, the governor of Anambra State, Chief Willie Obiano explained that Joseph Agro Ltd would produce 120,000 metric tonnes of rice paddies per year in its first phase, pointing out that in addition to the output of Coched Farms, the project would completely eliminate the state's rice supply deficit by 99%.
Said he; "Joseph Agro Ltd will help expand our scope in the agricultural sector. When fully operational, it will put 10,000 people in direct employment and about 25,000 in indirect employment. At the same time it will lead to the development of human and technical capacity to enhance local rice production as well as boost the growth in our internally generated revenue,"
Like Joseph Agro Ltd, Cardinal Developers & Trust Limited is also taking over the completion of Anambra's 4-Star luxury hotel in Onitsha, which will be managed by Radisson Blu on completion. Cardinal Developers & Trust Ltd is expected to build a 2,000 capacity conference center in Onitsha and construct 161 units of luxury apartments, flats and terrace houses in Onitsha.
Offering insight into the nature and benefits of the agreement with Cardinal Developers & Trust Ltd, Governor Obiano explained that "the project is expected to form a part of the Onitsha Entertainment Hub which has a world class shopping mall currently under construction and is financed by Africa Capital Alliance. This project will generate 400 direct jobs and 2000 indirect jobs."
According to him, on completion, the hotel is expected to attract discerning clientele and stimulate a new culture and lifestyle in Onitsha that has not been in existence all these years in addition to catalyzing the interest of investors in Onitsha which is in line with the state government's on-going urban renewal efforts in the major cities.
Also speaking at the MoU signing, the Managing Director, Mr. Joe Billy Ekwunife explained that the Anambra State Investment Promotion and Protection Agency (ANSIPPA) through which the investments found their way into the state had received 112 presentations and proposals from prospective investors and service providers in the last four months.
Said he; "These investors and proposals are put through a generic assessment and viability exercise which evaluates the investor's credibility and competence, financial capacity and timeframe of investment, among other criteria. At this moment seven (7) proposed investments have been identified as suitable, credible and value-creating for the indigenes of Anambra State. It is worthy of note that the generic assessment and risk analysis exercise has been carried out."
ANSIPPA estimates that by the end of December this year, Anambra would be $1.5bn richer in investments arising from another five MoUs that are in line to be signed.
Anambra State is fast becoming an investors' haven of sorts since the Obiano administration tightened the noose on crime and insecurity in the state
Already, one of the investors, Coched Farms Project, a subsidiary of the Coscharis Group has set up an office along the Enugu-Onitsha Expressway, hired some workers and mobilized to its farm settlement in Anaku.
On its own part, the state government has moved in to build the capacity that would support the impending agricultural revolution, successfully midwifing the formation of 1,874 cooperative societies that will catalyze the revolution. The members of these cooperatives will be trained and prepared in modern technics of mechanized farming.