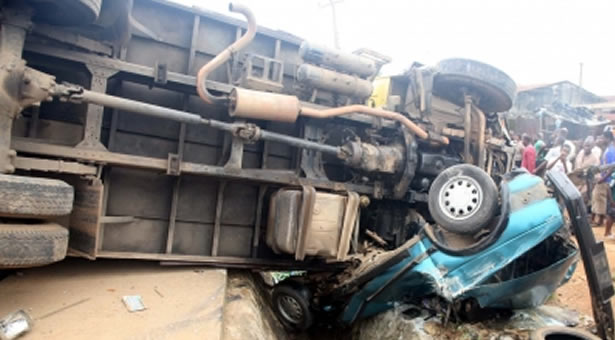 Tragedy struck at a police checkpoint on the Ogbor Hill Waterside bridge, Aba ,Abia State when a Mack truck lost control and rammed into over 10 vehicles including tricycles, killing four persons, including a pregnant woman while 11 others sustained varying degree of injuries.
247ureports.com gathered that the Mack truck belonging to Kirby Farms with registration number Rivers: BER 27 XA was coming from the Opobo Junction end of the ever busy Aba – Ikot Ekpene road when the accident happened around 6.30pm.
Eyewitnesses said the Mack truck loaded with stones which was descending the Ogbor Hill slope, lost brakes and rammed into the queue of over 50 vehicles and tricycles stopped by the police at the two checkpoints on the waterside bridge. It smashed 2 cars and three tricycles and later veered off to the other side of the road where it used two commuter buses; each filled with 18 passengers as a wedge.
The truck also destroyed adjoining kiosks at the area leading to a heavy traffic gridlock stretching over adjoining East Street and Old Post office area of the Ikot Ekepene road.
A shop owner at the area who spoke on the condition of anonymity blamed the accident on the presence of two police checkpoint on the Aba waterside Bridge.
"If not that the policemen who stopped vehicles at the checkpoints which formed long queue of vehicles on the bridge, the accident could not have occurred with such great damage."
247ureports.com gathered that the policemen who forced vehicles to queue up at the bridge in order to collect money from them immediately took to their heels as soon as the accident occurred. When our correspondent visited the scene, only men of the Federal Road Safety Corps (FRSC) were on hand to control the heavy traffic build up.
The FRSC men assisted by sympathizers' battled for more than three hours to bring out mangled bodies of victims trapped under the heavy duty truck.
The bodies of two women who were brought out under the axle of the truck while a three year old boy was brought out alive from under a commuter bus severally injured.
While the dead were taken to a private mortuary in the city that night, the injured were rushed to various hospitals for treatment.
A cross section of sympathizers at the scene who spoke to our correspondent blamed the recurring accidents in the area to the police checkpoint at the Waterside bridge head.
"We know that police checkpoints have been dismantled all over the country, but we do not know why that of Aba Waterside bridge is still there despite the fact that the area is prone to accident", some of them said.