Some concerned stakeholders in Atta Community in Njaba Local Government Area of Imo State have expressed dissatisfaction with the parlous state of Comprehensive Secondary School, Atta, a public school owned by the state.
They alleged that the sorry condition of the school and other secondary schools in the state contrast sharply with the image of sound educational system the government of Owelle Rochas Okorocha has been brandishing in the past three years.
A mysterious fire had last year completely razed the administrative building of the school and destroyed all vital documents that were kept in the principal's office since the inception of the school, more than 50 years ago.
This is in addition to the immense dilapidation that the school has been facing over the years with the teachers and the people of the community calling on the state government to come to their aide by assisting them rebuild the school.
Twelve months after the school was gutted by fire, the debris of the fire and the abject dilapidation had remained there without any assistance.
When 247ureports.com visited the school, it was observed that the students and their teachers have been teaching and learning under trees within the precincts of their respective school.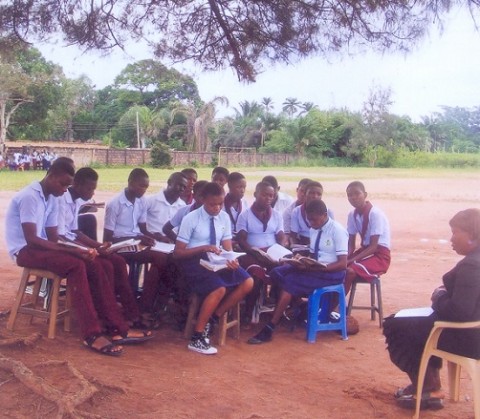 According to an impeccable source in the school, each of the available classrooms in the school contained not less 120 students with plenty others standing by the windows. This, it was gathered, was because most of the classes were combined for lack of spaces
"The overcrowding affects both students and teachers. Imagine having to teach in a very hot classroom filled students. So, plenty others have to sit under mango trees," the source said.
Speaking sometime ago when some members of the legislature visited the school, the principal of the school, Dr. D. O. Chibueze stated that the situation  is beyond their ability and called on the state government to come to their rescue.
According to him, the razed building also provided classrooms, laboratories and library for the students. He lamented that the school could not put in use the seats and desks numbering about 920 which they received from the state government because of lack of classrooms and insecurity.
Efforts to get officials of the state to comment on the issue was unsuccessful as several phone calls put across to the commissioner for education, Mrs. Uche Ejiogu was not answered.