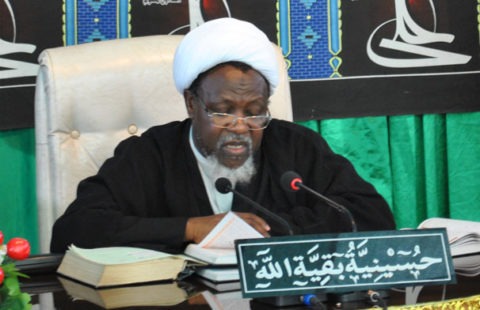 Leader of the Islamic Movement in Nigeria, Sheikh Ibraheem Zakzaky, has picked holes in the statements that Nigeria is facing serious security challenges.
He made the assertion while responding to a question by pressmen on the current spate of killings in the country in Lafia, Nassarawa state.
Sheikh Zakzaky said, "I don't believe that the country is facing security challenge, but rather a threat from the political class using insecurity as a tool to actualize their selfish interest and agenda".
According to him, those at the helm of affairs in the country deliberately created the situation of insecurity, without any concern to loss of lives and property of the citizens, to divert attention and plunder the country's wealth and maintain their positions in power.
He further said, the situation is never without instigation by foreign powers, whose interest, he said, the Nigerian political class is serving diligently.
Sheikh Zakzaky argued that, the mere fact that Nigerians are still at loss and cannot comprehend what is happening to them, in the face of the current spate of brutal killings and bombings that is daily claiming innocent lives, is a clear testimony that a foreign agenda is unfolding in Nigeria.
He said, what is happening is nothing short of a well calculated covert operation, and that there is more to what Nigerians are being told by the media.