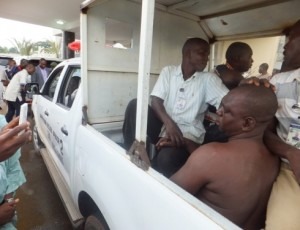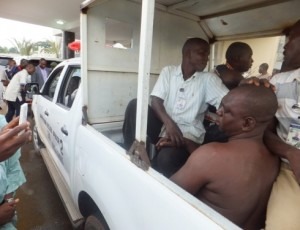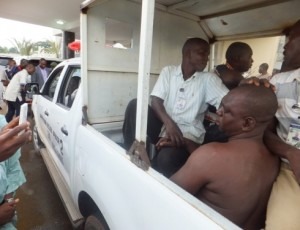 Two rival cult groups in the University Town of Nsuka, Enugu State, Vikings and Black Axe, in what looks like a reappraisal attack, clashed and killed three people including a first year student of Uiversity of Nigeria Nsukka, UNN, a driver attached to Enugu State Transport Company, ENTRACO and one other notorious cult member.
247ureports.com gathered that the rival cult groups have been on the neck of one another for several years, maiming and hacking each other to death in the slightest simmering differences. Sources said last Monday at Achara road in Nsukka Urban, one Ndubuisi Eze (aka Tafa) was shot dead by an unidentified cult group, his head was cut off and laid behind his lifeless body.
Investigations revealed that the deceased Ndubuisi had been on the wanted list of the other rival cult group for over two years, he absconded from the town over an alleged involvement in several killings, kidnap, robbery among others.   It was learnt that the said Ndubuisi Eze sneaked into Nsukka having fled Enugu where it is alleged that Vikings cult group and Black Axe held sway for days, unknown to him that the other rival group had ambushed him at Nsukka.
Investigations further revealed that Ndubuisi had gone to charge his phone but on his way back to his house around 7pm , a group of fierce- looking men shot him.  Sensing danger, he reportedly ran with the gun shot wound. The gang, in a hot chase, followed him to a point where he fell down, they then pumped bullets into him and beheaded him and fled.
While fleeing through Amukwa village in Nsukka, the gang  accosted one Ebuka Asogwa, a first year student of the University of Nigeria, Nsukka sitting in front of their house, they reportedly questioned him briefly and in the process, shot him dead.  Ebuka had been a car wash attendant along University road for years only to gain admission this year and was killed in front of their compound.
The alleged killer cult group while fleeing entered a popular drinking joint "Casablanca" at Odenigwe area where students were watching football and shot severally into the air while students and residents of the area scampered from pillar to post to escape from the scene while the group collected all the handsets that were charged as that time.
Meanwhile, a driver attached to Enugu State Transport Company, ENTRACO, whose identity could not be ascertained as at press time, was shot dead around 6.30pm along Achara road in Nsukka town. Reports revealed that the ENTRACO driver had allegedly been an old member of one of the cult groups and took part in several operations of his group.
The driver was said to be returning from work on Thursday night when the rival cult group accosted him and killed him instantly. The rival group, it was learnt ,shot indiscriminately into the air to scare passersby and fled to an unknown destination.
Enugu State Police Public Relations Officer, DSP Ebere Amarizu confirmed the incidence adding that they were suspected cult gangs in Nsukka and assured that the police were on it.