HARARE, Zimbabwe (AP) – A credible referendum on Zimbabwe's new constitution will be "an important milestone" toward the suspension of sanctions targeting many leaders and businesses linked to long-time ruler Robert Mugabe, the European Union said.
EU ambassador to Zimbabwe Aldo Dell Ariccia said in Harare the 27-nation bloc was encouraged by reforms in Zimbabwe after years of violence and economic turmoil.
Zimbabwe needs to be rewarded to maintain the pace of reforms, but individual travel, banking and business bans imposed in reaction to violations of human and democratic rights will stay in effect at least until after a referendum, he said.
A draft of the new constitution was completed July 20. It must be put to a vote months before parliamentary and presidential elections proposed for mid-2013. Mr. Mugabe, 88, joined a fragile coalition with the former opposition after violent elections in 2008.
"A peaceful and credible referendum will justify suspension of the majority of listed people" facing bans, Mr. Dell Ariccia told reporters.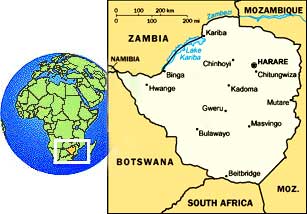 ---
'That's all hogwash. There is no reason why they must keep any of those sanctions. They have an agenda. I don't think their decision will make any difference.' —Rugare Gumbo, ZANU-PF Spokesman
---
About 110 politicians and Mugabe loyalists are banned from traveling to Europe and doing business there. EU officials say the bans on Mr. Mugabe and his closest associates will not be immediately affected by any easing of sanctions policy.
Mr. Dell Ariccia said European countries were pleased that Zimbabwe recently hosted the first visit by UN human rights chief Navi Pillay. Lawmakers also passed new legislation on electoral reforms and the formation of the country's first Human Rights Commission.
Zimbabwe was trying to become "like normal countries" but there was more work to be done, he said.
"We are taking stock. There are some elements in our view which still need to be encouraged," he said.
Development aid, frozen for nearly a decade, will resume immediately after consultations with the coalition government, he said.
Humanitarian aid was never stopped. Britain, the former colonial power, the European Union and the United States remained the country's biggest donors in a decade of economic meltdown.
Mr. Mugabe's party July 23 scoffed at the EU announcement.
"That's all hogwash. There is no reason why they must keep any of those sanctions. They have an agenda. I don't think their decision will make any difference," said Rugare Gumbo, the spokesman for Mr. Mugabe's ZANU-PF party.
European foreign ministers said in a statement released in Brussels July 23 they applauded what they called recent "constructive dialogue" between the EU and Zimbabwe and said the bloc will adjust its Zimbabwe policies to recognize steps taken to implement a roadmap to free and fair elections set out by regional leaders in southern Africa.
Mr. Mugabe was forced by regional mediators to join the fragile coalition with the former opposition party of Prime Minister Morgan Tsvangirai after the last violent and disputed elections.
The EU ministers called on all parties to seize the momentum gained so far to resolve outstanding disputes in the coalition government to pave the way for the upcoming elections.