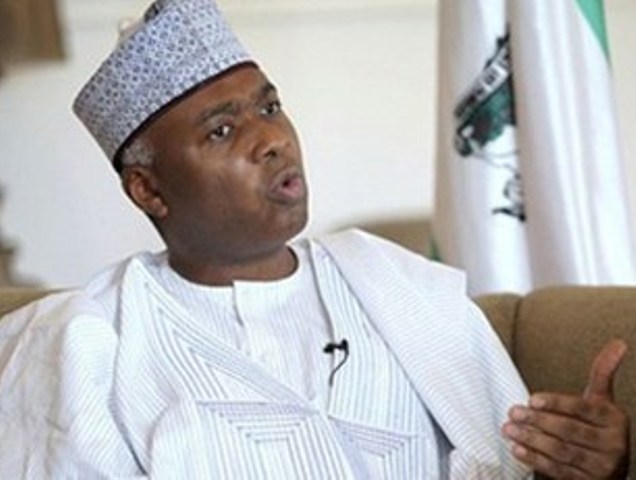 Oscar Chukwugekwu, Abuja
The Senate President, Senator Abubakar Bukola Saraki, has declared that the 8th Senate is ready to do all it can within the ambit of the law to re-invigorate the dwindling nation's economy and make it compete with that of developed nations across the country.
Saraki stated this yesterday evening when he received a delegation from the United Kingdom Emerging Capital Market Taskforce led by Mr. Roger Gifford in Abuja.
Saraki said that the present administration of President Muhammadu Buhari is working towards attracting investors whose entry will revamp the nation's stock market and ailing industries that dot the landscape.
He pointed out that apart from the country's historical relationship with the United Kingdom (UK), Nigeria expects robust economic ties with her former colonial master as well as investments that will assist in the area of industrialization, employment generation and technological development.
He reiterated the commitment of the 8th Senate towards facilitating the development of the nation's economy.
"The Senate is acutely aware that as attractive as Nigeria's market is for investment, the challenge is in creating a friendly business environment that is conducive and competitive in today's global context.
"We are already taking the bull by the horns and we are at advanced stage of putting together an engagement structure with the business community to fashion out a holistic plan of action that will bring about a comprehensive review of the regulatory instruments and legal structures that inhibit investments and depress capital formation across our business structure," Saraki stated.
The Senate President assured that the Senate will at all times support and push for policies that will create deep, transparent and open capital market with numerous company listings.
"Nigerians want to see legislative instruments that will help to open and stimulate private sector investment in infrastructural development. This will serve as a primary source of funding for national development and also lead to job creation for our teeming populace in line with the Federal Government's agenda for youth employment," Saraki said.
He commended the UK Foreign and Commonwealth office for the initiative of sending a task force on emerging capital market to Nigeria. He also enjoined the Taskforce to identify Nigeria as a priority market.
He added that the Senate will continue to fashion out legislative instruments towards achieving set objectives.
In his remarks, Gifford, who called for continued collaboration between Nigeria and the UK government, said that Nigeria has been identified as an emerging economy in Africa.
Gifford said the long bilateral ties among the two nations paved the way for the establishment of institutions in capital market.
He stated that the taskforce will work to create an enabling environment by bringing investors into the country.
"I can only task Nigeria to continue to work together with the United Kingdom in order to make good use of the new partnership," Gifford said.
124 total views, no views today