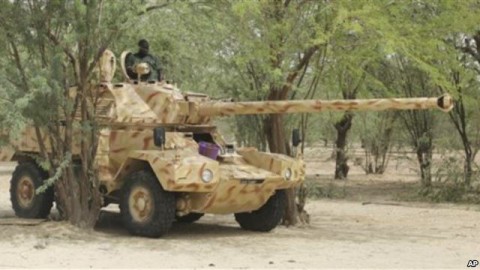 Information available to 247ureports.com from sources within the theater of activity in Borno State indicate that the situation in Gwoza has grown from bad to worse. As gathered, the town of Gwoza remains under the control of Boko Haram.
According to the source who is conversant with the military activities on the ground, Soldiers, on Wednesday, during the invasion by Boko Haram had abandoned their weapons and tanks and fled towards the mountains – leaving their weapons for Boko Haram who in turn utilized the weapons to kill the residents of Gwoza.
In reaction to the Wednesday attack, the Nigerian military deployed Special Forces comprising of well-armed soldiers to the town of Madagali under the leadership of a Brigadier General. But upon arriving the theater of action on Thursday, in an effort to retake the town of Gwoza, the Nigerian Special Forces were quickly stunned and rerouted by the superior fire power of the Jihadist group. The Special Force led by the Brigadier General was defeated and was forced to retreat.
As the dust settled, it was gathered that the Chief Imam of Gwoza may have been slaughtered during the Wednesday invasion by the Jihadist group.  It was also gathered that a Councilor in Gwoza was slaughtered along with his three children.
Meanwhile, the Emir of Gwoza is believed to have not been killed as earlier suspected. The Emir is said to have escaped to Maiduguri at an undisclosed location. Other residents who fled the invasion including soldiers are said to be stuck up in the mountains without food.