By Izunna Okafor, Awka
What could be described as depression has reportedly befallen Mrs. Kasie Abone, an Anambra- born journalist, due to the ongoing oppression, harassment, maltreatment and intimidation she is currently facing in her marriage. Kasie, who was formerly based in Lagos had since relocated to Anambra State.
Mrs. Abone, who hails from Abagana in Njikoka Local Government Area of Anambra State, was said to have gotten married to one Mr. Okechukwu Abone of Nnokwa community, Idemili South Local Government Area of the same State in 2006. However, they have been unable to have children. Her husband was said to be the first son of the family (known as a Diọkpara in Igbo language.)
It is worth noting that Mrs. Abone is not responsible for their childlessness, but her husband, who also refused medical attention despite her wife's constant persuasion. Medical checks revealed that he is responsible for their curable sterility.
A source close to the family, who has been following the matter for years, revealed this to reporter Izunna Okafor. The source urged him to inform Mrs. Abone's colleagues, the Anambra journalists, about her situation. The source, who requested anonymity, expressed concern for the popular female journalist, who is suffering in silence and depression.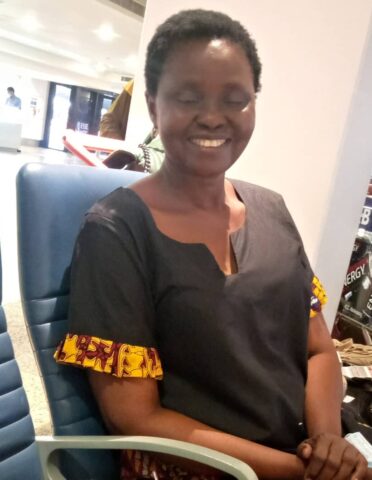 Continuing with the story of Abone's ordeal, the source alleged that the husband's refusal to seek medical attention despite their years of childlessness, was deliberate and a strategy to actualize the husband's plan with his siblings who hate her and resolved to do everything possible to either kick her out of the family or make her remain childless for ever.
When asked the reason for the said hatred, the source said that while some of the husband's siblings saw him as 'unfit' to be Diọkpara because of his kind of person, and would want to be the people saying what will be happening in the family; some others have some greedy interests in his huge portions of land; hence they ganged up to pursue their interests at any expense. The source, however, revealed that Mrs. Abone, being outspoken and courageous, was seen as an obstacle to achieving those evil goals; hence they saw frustrating her and perpetuating her childlessness as the best ways to kick her off the way.
According to the source, it was in the bid to actualize their evil intentions that the said siblings, Joy Ezeagwu (Nee Abone), Adichie Abone, Nkoli Enyolu (Nee Abone) and Emeka Abone, scattered the hitherto peaceful marriage of the Anambra journalist, Mrs. Abone and her husband.
"One of their strategies was framing up different unfounded allegations against her, to poison the mind of her husband to make him hate her. The husband, on his own part, eventually succumbed to the pressures from his siblings whom he relied on for daily survival after they succeeded in wrecking Kasie's career who was hitherto the bread winner of the family and. The husband had fallen back on his siblings for sustenance," the source explained.
The source added that even when Kasie's husband returned to Nigeria from the US, his siblings alienated him and never visited nor associated with them, in expression of their anger that he was still living with her despite all they told him. He also highlighted, with instances, some other forms of both diabolical and non-diabolical oppressions, attacks, and expressions to force her husband into conceding to their plans.
"However, the husband never bought into his wife's persuasion to go to hospital for treatment of his infertility; until the wife reached her menopause," the source added.
It was gathered that, although, Okey did not send his wife away, as was one of the ultimate goals of the siblings; he, in connivance with some of them, began planning to marry a second wife, a woman named Juliet Amuche Okoro, who was a mistress he was secretly dating from the time he returned to Nigeria while he was deliberately delaying his wife to ensure she got to her menopause as a childless woman. He also immediately began going to hospital for treatment immediately after Mrs. Kasie reached her menopause, to ensure that his fertility problem was solved, so that Juliet would bear children for him.
Okey's plan, according to the source, worked for him, as he succeeded in impregnating Juliet after treating himself in the hospital.
"Although, the lady terminated the first pregnancy from Okey when she discovered that he had a wife. However, she eventually got second pregnancy from him on the advice of his siblings with a promise that Kasie would be driven away if she achieved pregnancy again," added the source who spoke in Igbo language.
It was further gathered that Okey went against the verdict of his kinsmen on the matter, and secretly married Juliet as second wife, without notifying and getting the approval of Kasie, his wife, which his kinsmen gave him as the only condition for him to get a second wife.
He was also said to have kept the second wife and her child away from Kasie's sight, based on some allegations from some of his siblings who told him that she would kill the second wife and her son when she sees them.
The source said shortly after the marriage of the new wife, the siblings, who had never helped Okey before, made plans to sponsor him, his 'new wife', and her son to Canada, with a hidden intent to send them on an exile, so that he would not be able to return to Nigeria again to take possession of his property and full right as the eldest son.
However, Mrs. Kasie's intervention thwarted the move, as she seized Okey's traveling documents.
According to the source, when the siblings saw that all their efforts to actualize their evil plots could not see the light of the day, they resorted to levelling fresh brands of allegations against her.
"When the pressure was too much for her, she left her matrimonial home to avoid trouble and further scandal," the source further disclosed, adding that Kasie's husband, Okey, was not happy that his wife left.
"He took some elders of his kinsmen, including my uncle, to beg Kasie to return. These kinsmen later advised him to sponsor his wife to adopt her own children. But immediately she adopted the child, her husband's siblings initiated multiple lawsuits against her. They saw the adoption of a son as another bad omen to their plot," the source added.
Journalist Kasie, according to the source, currently has different elongated legal battle hanging on her neck since many years now and still counting, courtesy of her husband's siblings, including one initiated by Rev. Emeka Abone at Nnewi High court, and another initiated by Emeka Abone at Ogidi High Court.
The source maintained that they are relying so much on their riches to torment, frustrate and intimidate the childless journalist.
It was gathered that they had also sent some people to attack and beat her up in several occasions; while assassins had been sent to assassinate her at her residence — a plot she escaped because she was alerted by those privy to it, before the assailants got to Obi Abone, where she was resident at the time.
"My brother, it was all these things that I observed that made me to call you as a journalist to brief you about what your colleague is passing through. She is really passing through a lot. And I think you guys should reach out to her, because I feel she is currently depressed and dying in silence," the source concluded.
When this reporter, Izunna Okafor, contacted her, Mrs. Kasie, who sounded very weary, confirmed that she had "very serious issues" with her marriage, which has been eating her up emotionally for years now. She, however, declined to give further details or comments on the nature of the issues, because the matter is still in the court.
"The matter is still in the court, my brother. And so, I don't want to make any comments on it yet, pending the outcome and decision of the court. I can't preempt the court," she said.
She added that only her lawyer would be in a better position to speak to the journalist on the case.