By Izunna Okafor, Awka
A couple, identified as Mr. Wosu Michael and Mrs. Blessing Michael, has been arrested for starving their five-year-old daughter in Anambra State.
The incident happened at Adazi-Ani, Anaocha Local Government Area of the State, where the couple was also subjecting the child to other kinds of inhumane treatments, including forcing her to sleep on plank while they and other children sleep on bed; among other ill treatments they were subjecting her to, before they were eventually exposed by neighbours.
The five-year-old child was thereafter, rescued by the Anambra State commissioner for Women and Social Welfare, Hon. Ify Obinabo, whose Ministry immediately intervened on the matter after receiving the report.
According to a statement issued by the Public Relations Officer of the Ministry, Chidimma Ikeanyionwu, the report about the incident was made known to the Commissioner through the Transition Committee Chairman of Anaocha Local Government Area, Mr Gerald Ikechukwu Ozoh and the State Coordinator of the Ladies of Good Governance, Mrs Chinwe Uba.
She further revealed that the couple who has three children, hailed from Rivers State and Akwa Ibom State respectively.
Speaking on the incident at her office in Awka, Commissioner Obinabo, who condemned such inhumane treatment in its entirety, said her primary assignment was to protect the rights and promote the welfare of every child in Anambra State, both indigenes and non-indigenes.
While appreciating the persons who exposed the evil acts of the couple and those who brought it to her knowledge; she also assured that she wont let the couple go unpunished.
Through the efforts of the Commissioner, the little child was taken to a hospital in Awka, where she is currently receiving treatments.
When interrogated, the mother of the maltreated child, Mrs. Michael said she starved and subjected her to such things in obedience to her pastor who told her that the child was a little witch, and did not deserve to live, let alone living fine as a human being.
She also confessed that, in obedience to her pastor's vision, she has been subjecting the little girl to sleeping on a plank due to her constant pooing and peeing on her body.
According to her, the pastor also told them that the five-year-old child is responsible for all her husband's downfall in business.
On his own part, the husband, Mr. Michael denied having knowledge of the ill treatment mated out on the child.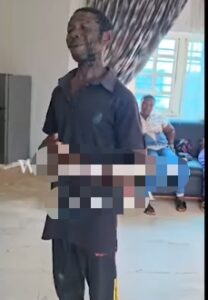 The suspects were, thereafter, detained in police custody, while investigation is still ongoing on the matter. They also pleaded for forgiveness, claiming that it was the handiwork of the devil.