By Izunna Okafor, Awka
A room in a five-bedroom duplex has been razed down by fire in Anambra State.
This is coming barely four days after three other buildings got burnt the same day in the State, including the house of a Deputy Vice Chancellor of Nnamdi Azikiwe University.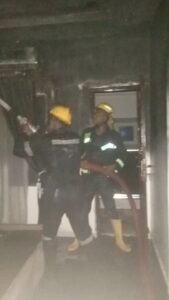 According to Anambra State Fire Chief, Engr. Martin Agbili, the latest outbreak occured at about 7.56pm on Wednesday at No. 10 Uche Mmaduabuchi Agu-Aba layout off Mopol Base, Agu Awka.
He said: "Immediately, our fire truck and diligent firefighters were deployed to the scene of fire for its extinguishment. The fire was fought, controlled and extinguished.
"The cause of the fire was Power Surge and there was no record of any casualty or lost of life."
Continuing, he said "A room in the five-bedroom duplex was completely burnt, but we were able to control the fire from spreading to the other rooms and saved the building and other nearby buildings.
"We withdrew from the fire scene back to our fire station at about 2157hrs (9.57pm)."