See video below
Information reaching 247ureports.com indicates another police officer stationed at one of the police stations in Anambra State have been gunned down owing to the growing insecurity enveloping Anambra State.
Loading ...
The latest attack occurred at a community in Oyi Local Government Area [LGA] of Anambra State.
According to information gathered through eyewitnesses in the immediate community, the police station at Nkwelle Ezunaka was attacked at the early morning hours of Sunday [February 19, 2023]. One of the eye witnesses placed the time of attack at about 3:30am.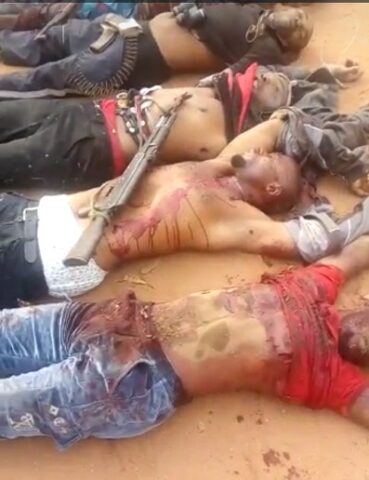 The attackers came in 'numbers' and were dressed in what appeared to be dark clothing. According to the source, the arrival of the attackers to the station followed a gun fire exchange between the police officers at the station and the attackers. "We heard gun fire. It was intense".
The gun fire exchange resulted in the death of one police officer and five of the attackers were killed. One of the attackers is believed to have sustained an injury. The veracity of the injury is not certain. The vehicles at the police station were seen burning.
See video of the dead attackers:
The identity of the killed officer was identified as Officer Effe.
In addition, an unidentified dead body was found on the ground at the end of the shooting. The police is certain of the identity of the dead body. It is readily unavailable whether the dead body was a member of the attackers.
See photograph below:
This latest attack comes as two previous attacks were recorded at Ukpo [attack against soldiers wounding 5 soldiers] and Ogidi [attack against police station killing 3 officers]  within 24hours.