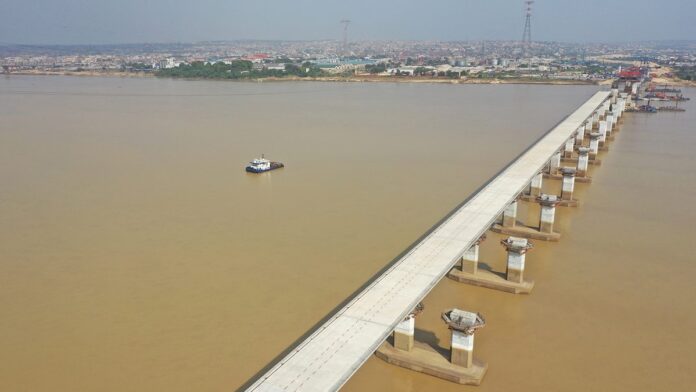 The Chief of Staff, Prof Ibrahim Gambari, Minister of Works, Babatunde Fashola and the his Labour and Employment counterpart, Dr Chris Ngige on Tuesday inspected the progress of work at the 2nd Niger Bridge in Anambra and Delta States.
Satisfied with the work so far done on the project, the federal government delegation assured that President Muhammadu Buhari would Commission the bridge in October .
According to Julius Berger Nigeria Plc, handling the contraction work, the project would be completed in April.
The Managing Director of the company Mr.Lars Ritchter who led the Federal Government delegation round the project tour said the bridge had reached 84 percent completion.
Speaking, Fashola said, "Before now some people said there was no bridge but now we are walking on the bridge. This is real now. Plus or minus, the president would commission this project in October."
Fashola said in April the high tension transmission line across the bridge would be relocated because they were too low to the bridge.
For that reason, he said power would be shut down for two weeks in the area to enable the generating and transmission companies as well as the ministry of power to work seamlessly on the project.
He pleaded that those who would be affected by the development should cooperate as nobody would be shut out permanently.
Ngige, in his speech said he had been proved right when he assured last year that the second Niger bridge was real.
He said what important was for the bridge to be completed and commissioned in October.
Ngige added, "The speed, the environmental concerns taken care of and the quality of the bridge to last for many decades are worth celebrating.
Prof Gambari in his comment said previous administration before Buhari for 16 years committed about N10bn on the project while the present government had sunk about N400bn on the project.
He said," In such situation will you say the previous administration was committed to this project?".
The Federal Controller of works in Anambra State, Mr Adeyemo Ajani said that pace of work was slowed down by the outbreak of Coronavirus in 2020.
Ajani said the bridge provided 15 metres for water level during high tide in the River Niger to give ships enough elbow to pass.
On the issue of power that will be disrupted, he said the power lines were too low and needed to be relocated and that it would take the construction company two weeks to relocate it.