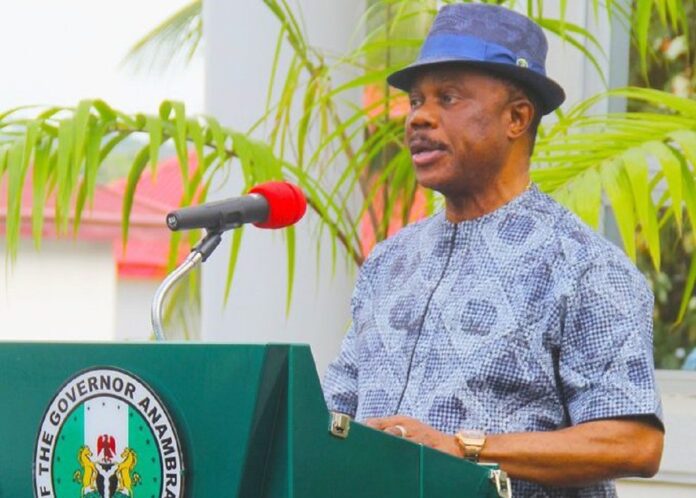 Advertisement
By CHUKS EKE
Amidst protests, Governor Willie Obiano of Anambra state has issued a Certificate of Recognition to Igwe Johnmark Anyaoha, the Igwe-elect of Ogbunka community in Orumba South Local Government Area of the state.
He also issued certificates to the traditional rulers of three other communities, including Igwe Rufus Iloduba of Aguluzigbo in Anaocha council area, Igwe Sunny Nwokedi of Achalla in Awka-North council area and Igwe Raymond Omoja of Owelle in Anambra West council area.
Advertisement
The people of Ogbunka had got wind of the proposed issuance of the certificate to Anyaoha, by Obiano and stormed Governor's Lodge, Amawbia, venue of the ceremony with their placards with various inscriptions.
Some of the placards read in part: "Dr. Forsta Ezenwa Ihejiofor is the Igwe-elect at Ogbunka and not Johnmark Anyaoha. Ogbunka is a peace-loving community and we should not be forced to do otherwise. Government of Anambra state, Ogbunka say no to anarchy. Option A4 is the answer. ANSG, respect our collective will as a community. Your Excellency, allow the will of Ogbunka to prevail".
Led by the Secretary-General of Ogbunka Development Union, ODU, security agents however refused to allow the demonstrators gain entrance into the Lodge to see the Governor and probably disrupt the issuance ceremony which was going on simultaneously with the time of the demonstration exercise.
Presenting the certificates, Gov. Obiano stressed that his administration would continue to strive for justice in the process of selecting traditional rulers, irrespective of friendship and political divide.
The Governor urged them to run all inclusive tenures by involving youths in the system, so as to meaningfully engage them.
He also maintained that security would remain premium for his government, urging the natural rulers to key into the security measures of the state.
Commissioner for Local Government and Chieftaincy Matters, Mr Greg Obi explained that the election was duly conducted in line with their customs and tradition.
According to Obi, "We don't use criteria of money to grant certificates. If it is a poor man that the community elects, the poor man will be the traditional ruler, if he's a rich man, he becomes. We don't care about the wealth".
"We give equal opportunities to everyone based on their custom. This Certificate will bring to a total of 57, certificates presented since Gov. Obiano administration came into power", Obi further stated.
In their separate advice, a Senator, who represented Anambra Central at the National Assembly and former National Chairman of APGA, Sen. Victor Umeh; the Obi of Onitsha and the Chairman South East traditional rulers council, Igwe Alfred Achebe said it was incomplete for communities to exist without traditional rulers.
They therefore urged the newly elected royal fathers to embrace peace and use their position to attract more development to their communities.