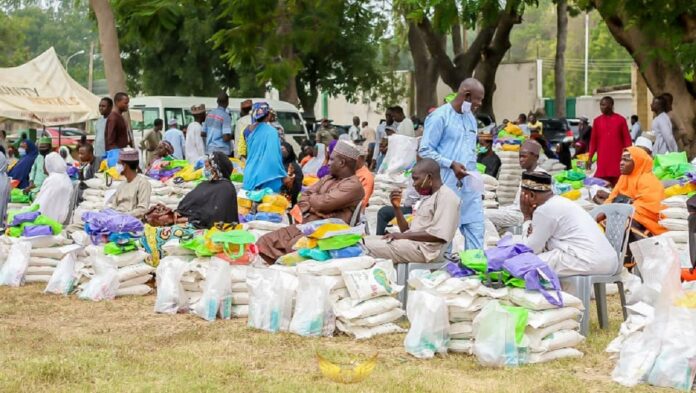 First Lady of Nigeria, Dr. Mrs. Aisha Muhammadu Buhari has called on Gombe and Bauchi States Women to take care of their health and exercise highest standards of hygiene at two separate advocacy events in Gombe and Bauchi State respectively on Tuesday 3rd and Wednesday 4th November, 2020.
Mrs. Buhari, who was represented at the event by the Special Assistant to the President on Media & Publicity, Mr. Aliyu Abdullahi, emphasized the importance of maintaining high standards of hygiene by women particularly during the COVID-19 era. She reminded participants at the two events that the Global Pandemic is not over and is very much around going by the recent statistics from the Nigeria Centre for Disease Control (NCDC).
At the Gombe event, three locations were visited; Zainab Bulkachuwa Women & Children Hospital Gombe, Maternity Primary Healthcare Centre Kalarin, Kaltungo and Kumo Primary Healthcare Centre. Gombe State First Lady, Hajiya Asma'u Inuwa Yahya and Gombe State Government officials attended the events. Mrs. Inuwa Yahya admonished the Women to pay attention to their health and reminded them that "to have health is to have life, and that life is too precious it cannot be bought". She also thanked Mrs. Buhari, the Aisha Buhari Foundation (ABF) and Future Assured for the health Packs (which includes sanitizers, hand wash, other hygiene products). More than 600 women benefitted at the three locations in Gombe.
At the Bauchi Event, women groups cutting across different strata and sectors such as Muslim Women, CAN Women, Market Women, Women in Civil Societies and NGOs were part of the participants at the event and also doubled as the beneficiaries of the First Lady's health packs distributed at the event after the advocacy campaign on the need to take their health seriously.
First Lady of Bauchi State, Hajiya (Dr.) Aisha Bala Mohammed who distributed the health packs to the beneficiaries alongside other empowerment packages from her office also called on well meaning Nigerians to assist the Federal and State Governments in their efforts to bring succor to the most vulnerable members of the society.
The event was attended by members of the Bauchi State Executive council, commissioners of Women Affairs, health, culture and tourism, and youth among others.
Beneficiaries took turns to express their happiness and gratitude to Mrs. Buhari and called for more and better collaboration between her office and the people of Bauchi State.