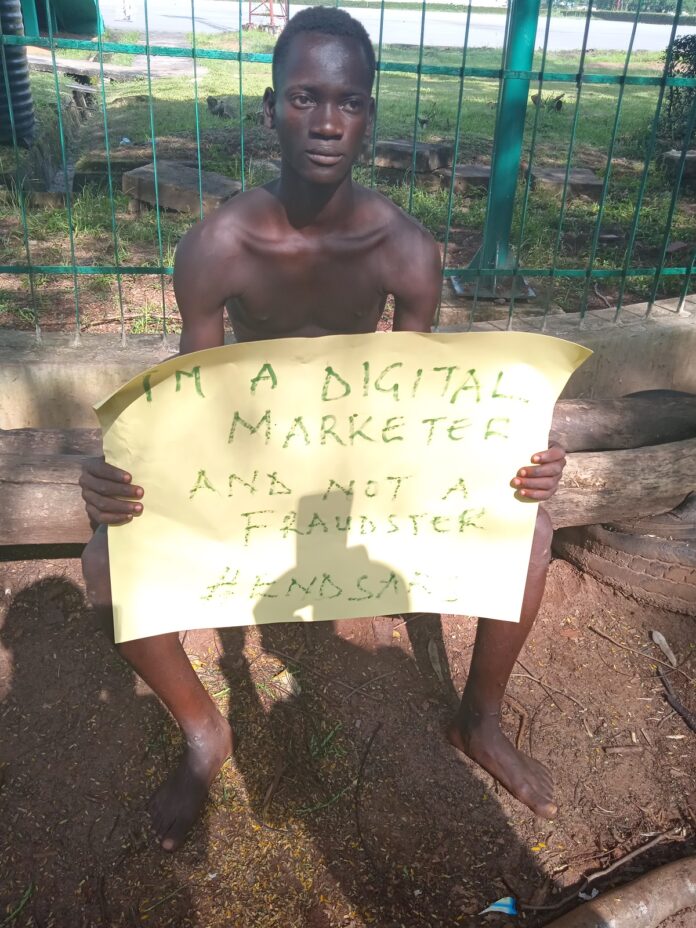 As the #EndSARS campaign protest continues to reverberate, a 25- year -old boy, Joshua Uchechukwu Nze, has accused the disbanded Special Anti-Robbery Squad (SARS), in Enugu state of allegedly defrauding him of $337,000 while in their detention for six months.
Uchechukwu who spoke to our correspondent in Enugu, said that the SARS operatives introduced him into Yahoo Yahoo scam, while he was in their cell for six months without trial.
He alleged that he made $25,000 in the cell for them and $312,000 he made from internet business before he arrested was defrauded him while in their custody.
The 25-year-old boy who hails from Ugbene in Awka North Local government area of Anambra state, said he was arrested on November 25, 2019 by Enugu Heaven Police Division for alleged internet scam and was transferred to SARS where he was detained for six months without trial.
He alleged that before he was let go, they injected him with modecate injection to make him look like a mad man.
According to, him "I am an online business partner with click bank. First of all I saw the bank online and I subscribed to the business. The business is just all about getting people from your Yahoo mail – that is why anytime they hear Yahoo mail they will think it is Yahoo Yahoo scam but, this is not. We have too many businesses online that fetches people money.
"So when I subscribed I got $312,000 in one year. When the money was paid the people that I am living with thought I am into Yahoo Yahoo and called the police on me. When the police arrested me they said it was not their case and transferred me to Police Anti-Robbery Squad (SARS).
"So at the SARS, they took me to Psychiatristic Hospital, Enugu and gave me modecate injection that made me weak and made my head go wild.
"So with the medication it makes you to be pressing the phone very well for them inside the cell. In the cell they will give you your phone to be using and be doing Yahoo Yahoo for them. When the money come they will take the money and give something for your upkeep while in the cell.
"For the six months I was detained in their cell I made $25,000 inside the cell for the commander and his subordinates.
"They equally shared the $312,000 US Dollars I made from the online business among themselves."
He said that in the six months he was in police detention, they never took him to court for committing any crime, noting that miraculously they released him when their office caught fire and he was let go after injecting him with modecate injection so that nobody will believe his story.
"I would have been in the SARS cell if not that their office caught fire and while people were running around I was let go. They arrested and detained me for six months without trial.
"They only held me in cell so that I will be doing the online business and they will be collecting the money. All the money I made, they only gave me money for food for the six months I was in their custody. I have no parents, my parents were late and I have nobody to come and pay them for my release."
On whether it was the same business of Yahoo Yahoo he was doing before he was arrested, he said no that he was doing real online business, adding "because I knew how to do online business they now introduce me to be brainwashing white women, telling them that I am an orphan to attract sympathy from the white people."