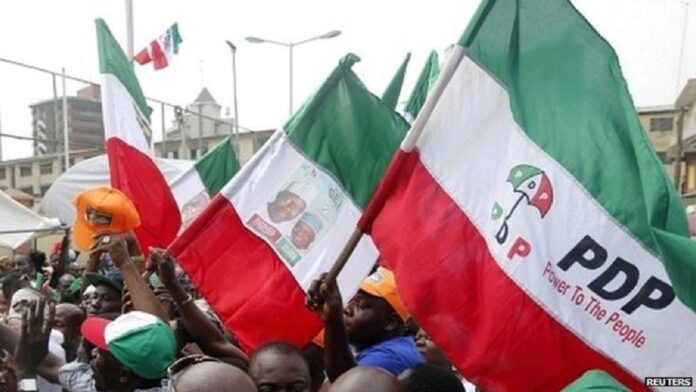 *PEOPLES DEMOCRATIC PARTY,(PDP) PLATEAU STATE CHAPTER. 20/22 YAKUBU GOWON WAY OPP NTA JOS*
The Peoples Democratic Party( PDP) has put on hold its Campaign flag off for the Plateau southern senatorial election slated for 22nd October 2020 to sympathize with the families of those who were innocently and unjustly killed,attacked and harassed in the popular Terminus, Ahmadu Bello Way ,and Bukuru of Jos North and South Local Government Areas respectively.
We condemn in very strong terms the hijack of the ongoing peaceful protest in the city capital carried out by harmless citizens by these sponsored hoodlums .
It is unfortunate that we are governed by a political party that has no value for its citizens and so it can neither protect its right nor listen to its cries .
The governments attitude is worrisome especially when the disappointed citizens reaction is juxtaposed for their non performance and incompetence, this situation is an embarrassment to our sensitivity as citizens. It's only an enemy of democracy and the people that doesn't value and protect the liberty, freedom and rights of its citizens or find ways to resolve pluralistic views without adding more salt to the painful government inflicted injury.
Democracy in our view as a party requires some fundamental political principles and social norms that should be adhered to unfortunately this apprentice APC government still needs some orientation.
No responsible Nigerian or political party will ignore or support this infiltration of a peaceful and legitimate protest by hired hoodlums who have become so brazen to destroy property,harass, rob/loot and even kill citizens in broad day light and to also burn down a place of worship.We have no doubt that these miscreants are not #EndSARS protesters but sponsored criminals who use the freedom offered these peaceful protesters by their inalienable fundamental human rights as enshrined in the constitution of the federal Republic of Nigeria to cause havoc and create mayhem as a result of the government's failure to address the issues raised and manage the protests well.
The question we ask is why was Governor Lalong and APC silent until these sponsored hoodlums attacked innocent citizens?
Why did it take Governor Lalong so long to react?
As a responsible, responsive,democratic and compassionate political party that believes in the supremacy of the people with vested powers to decide who governs them and its sensitivity to the plight of her citizens the party has considered and put on hold the flag off campaign in honor of those unjustly and brutally killed .Our hearts and feelings go to their families and loved ones and to all lovers of democracy, it is expected by now the governor should have visited the families of these victims, but it appears he has no concern for the people rather he is planning for his party's campaign slated for tomorrow 22nd October 2020 amidst this ungodly act.
May their souls rest in perfect peace. To those that were harassed and their property destroyed we commensurate with you all.
The Peoples Democratic Party believes in a better Plateau state and Nigeria , where justice and freedom from oppression prevail, We commend the peaceful protesters for raising very fundamental issues affecting the nation and for their resilience despite the intimidation by these sponsored hoodlums to insist that their demands are actualized. As a party we are worried because it appears that the hoodlums are out for a different mission because there has never been a clash between peaceful protesters and any thugs or hooligans in the History of plateau state. In this case it is even the hoodlums that started attacking and extended the attack to even those who were not part of the peaceful protest. This is unacceptable under any genuine democratic government.
As a party, we welcome the dissolution of the special Anti- Robbery Squad known as (SARS) of the police and we support steps taken to completely overhaul and restructure the entire police architecture to engender professionalism, adherence to rule of engagement and respect of all Nigerians .
As we call on government both state and federal to please for once value the rights of its citizens and address the demands/issues raised by the peacefull protesters to forestall peace and unity in the country.
We call on security authorities to fish out these sponsored hoodlums responsible for this dastardly act and the police to always provide security to all citizens particularly those on peaceful protests .
Finally the Party urges Plateau residents to remain calm, be watchful,prayerful and support the police as they rid our streets of these vagabonds responsible for the killings and mayhem of our citizens.
Signed….
John .T. Akans, ksm,FICA JP.
State publicity secretly.