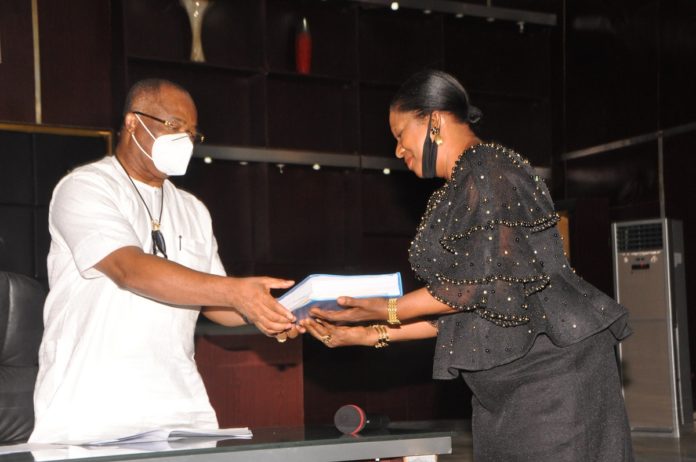 Imo State Governor, Dist. Senator Hope Uzodimma has commended members of the Judicial Commission of Inquiry on Lands and Related Matters for a job well done, promising to do justice to their report.
Governor Uzodimma spoke on Monday, June 1, 2020, at the Sam Mbakwe Executive Council Chambers, Government House, Owerri when members of the Commission headed by Hon. Justice Florence Duruoha-Igwe (rtd) came to submit their report.
The Governor assured the members that government will critically study the report with a view to doing the needful in the interest of Imo people.
Governor Uzodinma asserted that the report is important to the people of Imo State, as they have looked forward to it. He said now that "the commission has passed the ball to government and it is the responsibility of the government to score the goal."
Earlier in her address, the Chairman of the Judicial Commission of Inquiry on Lands and Related Matters, Hon. Justice Florence Duruoha-Igwe (Rtd.), said members ascertained the extent of distortion to the Owerri Master Plan.
"The visual evidence shows that the distortion of Owerri Master Plan was colossal and mind-boggling. It requires a man/government with lion's heart to restore same, bearing in mind that you cannot make an omelette without breaking an egg," Justice Duruoha-Igwe said.
She said the Commission's recommendation had only one motivating factor/consideration: "to completely restore Owerri Master Plan and the lost glory of our beautiful city." She added that they were mindful of the fact that history and people of Imo State will judge them harshly if they fail in the onerous task of doing it right.
Justice Duruoha-Igwe explained that in the course of their assignment, the Commission received 1,532 petitions/memoranda from Imo State and the Diaspora. "It is the prayers of members of this Commission that our work/report will find acceptability before our God and the people of Imo State," she added.
Present at the submission were the Deputy Governor, Prof. Placid Njoku; Attorney General and Commissioner for Justice, C.O.C. Akaolisa; and the Members of the State Executive Council.