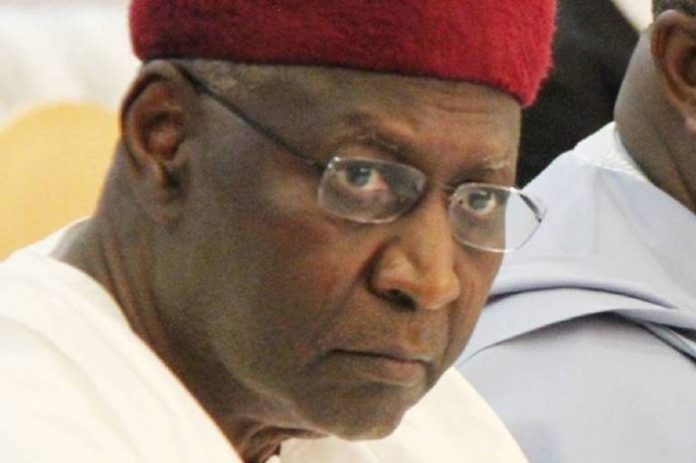 The arrival of Corona-virus (COVID-19) to Nigeria, left this writer sad, not because of the infectious nature of the disease, but because first, Nigerians, particularly, the political class, may turn it to a deadly weapon for dirty political fight. Secondly, I was sad because States in Nigeria may use it fight for the highest paid state in terms of how much each states got from donors (Federal and International donors). The source of my second strand of sadness was adroitly addressed by federal government; when it announced the lockdown of Lagos and Ogun state as well as FCT.
As Nigerians know, the first case of COVID-19 was recorded in Lagos. An Italian was said to be the index case. The good news was that he later tested negative for the virus. Lagos state took proactive measures to prevent the spread of the disease. In fact, the state went a step further; it started the fumigation of parts of the state in furtherance of the proactive contentment move. As soon as Lagos state initiated the fumigation of the state, Kano state, started its own proactive fumigation. Just as the fumigation was in place, lockdown of states started. As at today, almost all the sates in Nigeria have locked down. The point this writer is trying to make is that, it appeared Lagos and Kano states, were on the verge of kicking off another round of rivalry, apparently from where they stopped.
It could be recalled that during the second term of former President Olusegun Obasanjo, almost all the states in Nigeria, started the craze of creating Local Government Areas (LGAs). Even though, states have the right to create LGA, after satisfying the Constitutional requirements, federal government however, ordered all the states that created LGAs then to disband. It is on record that thirty five (35) states complied, only Lagos state refused to comply. The reason given by Lagos state for creating fifty seven (57) LGAs then was that the state is more populated than Kano; yet, Lagos has only twenty (20) LGAs, while Kano has forty four (44) LGAs. In responding to Lagos LGAs creation, Kano created eighty (80) LGAs. Arising from this, it was obvious to Obasanjo-led federal government that national security was under threat, and so order was given for disbandment of the LGAs by states. It was when Lagos refused to disband that President Obasanjo, as he then was, withheld the LGA allocation to the state, citing breach of the Constitution that he, Obasanjo, swore to defend by Lagos state. Obasanjo instated that Lagos state can only be allowed the 57 LGAs if the state successfully approached National Assembly for consequential amendment to the relevant section of Nigerian Constitution; saying that only seven hundred and seventy four (774) LGAs were contained in the Constitution given to him. The rest of what later transpired is now history.
Probably, President Muhammadu Buhari-led federal government had seen that COVID-19 has apparently ignited the rivalry between Kano and Lagos state again, hence, it decided to lockdown Lagos. If Kano and Lagos were not locked down, by now, the two states may be on each other's neck, struggling for bigger pie of COVID-19 funds. Who knows what would have been happening in the two states now, if FG is not prudent in spending public funds. Perhaps, the two states may even be struggling to showcase more COVID-19 facilities and centers etc. Now that the states are on lockdown, there will be no room for maneuverings in terms of funds to be given. If FG gives COVID-19 funds to any state now, it will be based on needs assessment. That Nigerians are not seeing escalation of the pandemic figures in the 36 states of the federation plus FCT for the purpose of funds allocation may just be as a result of President Muhammadu Buhari's inner circle's wisdom in responding to the pandemic. This is what has apparently angered Abba Kyari's political opponents.
The fallout of government skillful response to COVID-19 in Nigeria, is what Abba Kyari, the Chief of Staff to President Buhari is suffering now by way of "COVID-19 death" wish by political opponents. In their satanic move, they said Abba Kyari tested positive for COVID-19. Another report orchestrated by them, had it that the CsO was to be taken to Lagos for treatment, probably because of the media hype that Lagos has found the cure for the virus. Yet again, a social media report has it that the CoS is feeling well and will transfer from Abuja to Lagos. In all, Abba Kyari has used his deadly weapon, "silence" to cut off his COVID-19 death wish opponents. Having seen that it is only God Almighty that has the final say on death of anybody, and not the wish of any wicked soul somewhere; the CsO's opponents circulated yet another rumor that he has been sacked. The secretary to the government of the federation, whom they say, issued the sack letter, has come out to say it is Fake news.
The wicked COVID-19 death wish to Abba Kyari and associated stories around it by his heartless opponents even made Femi Fani Kayode (FFK), an avowal opponent of this administration, to join issue with the wicked death mongers. He has this to say in his twitter handle: "It is not true that Abba Kyari, the Chief of Staff to @MBuhari, is dead. Those that are behind that rumor are vicious and heartless. I remain opposed to the @MBuhari admin, but to wish or proclaim someone dead simply because you disagree with him politically is unacceptable".
The age long saying that "if wishes where to be horse, beggars might ride" appears to be the case in Abba Kyari's matter here. First, dirty politicians who want to destroy President Buhari-led government even before 2023, are fervently wishing that COVID-19 kills Abba Kyari; but that is not possible because the power of life and death is not in their hands!
Emeka Oraetoka
Information Management Consultant & Researcher
Wrote in from Abuja
e-mail: giltsdaimension@gmail.com
GSM: 08056031187 09039094636.