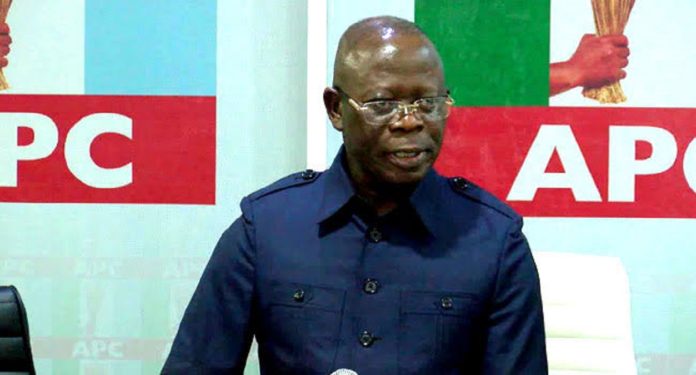 By Timi Johnson
The rumor of Adams Oshiomhole's exit as Chairman of the ruling All Progressives Congress seems to be coming to a reality. This is evident as 13 out of the 20 APC Governors and over 60 stakeholders of the party, endorsed the removal of the Comrade Chairman.
Comrade Adams Oshiomhole who was restrained by an FCT High Court, from parading himself as the National Chairman, has in recent days challenged the Sovereignty and Supremacy of the courts. His continued Disrespect and Disobedience to the law, has necessitated the involvement of critical stakeholders of the APC.
You may recall that Mr. Oshiomhole was recently suspended by his party at his Ward, Local Government and State levels. It was on this premise the injunction application was grounded. Allegations that triggered his suspension include; alleged Highhandedness, Misappropriation of funds and Disregard for the rule of law.
The ruling All Progressives Congress, has in recent days been going through a lot of turmoil. After surviving major judicial upsets in Zamfara and Rivers State during the buildup to the last elections, which totally knocked them of the ballot; the APC has been battling with internal Unity, especially in its NWC.
It was alleged that Comrade Adams, single handedly appointed a National Secretary for the party without any constitutional backing. Unconstitutionally attempting to input Lanre Issa-Onilu and Waziri Bulama into the National Working Committee of the APC, was one of a sin too many.
A stalwart of the party, Dr. Aminu A. Zubaru has called on the DSS, the Nigerian Police and all relevant agencies to investigate the matter and arrest all guilty of impersonation and contempt of court, this includes Adams Oshiomhole, for disobeying court orders and going against the provisions of the party's constitution.
According to Dr. Aminu, "Contrary to Article 20 of the Party constitution any attempt to make Lanre Onilu or Waziri Bulama officials of the Party is not just a breach of the constitution but also a contempt of court proceedings."
"As against the provisions of the APC constitution both Mr Lanre and Arch Bulma never went through any convention as required by Article 20 of the constitution which demands that they be democratically elected; and even where there is a consensus; a convention must ratify, said the party faithful".
"Lanre was smuggled into the National Working Committee in the past and in the same manner Adams Oshiomhole tried to smuggle Arc Bulama in. This will not stand. They are both impersonators and should be arrested immediately", he said.