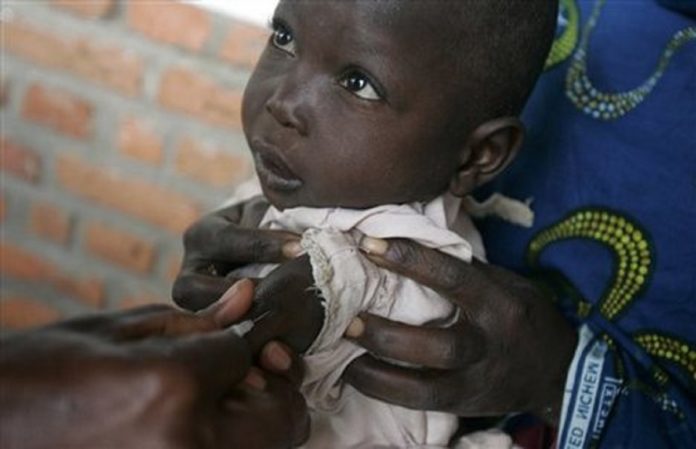 Kano state Commissioner of Health, Dr. Aminu Ibrahim Tsanyawa on Friday raised the alarm of impending infiltration of polio meningitis in Kano from neighbouring states, urging parents and care-givers to make their wards available for vaccination between January 11 and 14, 2020.
247ureports.com reports that Kano has recorded polio-free status for 64 months counting.
Dr. Tsanyawa, however, said the state government is prepared to sustain the tempo of polio-free state as over 3, 564, 260 under-five years old children are targeted for immunization this time round, with 3, 732, 040 doses of vaccine during the immunization campaign against polio commencing from 11 to 14 January, 2020.
Tsanyawa who stated this on Friday during a Press Briefing to commence the exercise, stated that, "the circulating vaccine-derived poliovirus (cVDPV) is said to have been isolated from environmental samples and have been reported in some states like Borno and Kwara. Similarly, cases of cVDPV were reported in our neighbouring states and countries alike.
"Consequentially, the state (Kano) is at risk of infection from these neighbouring states, for number of reasons which include long stretch of borders with Jigawa and Katsina states.
"High population dynamics occasioned by high volume of commercial activities; highly populated metropolitan Local Government Areas; influx of migrants/Internally Displaced Persons (IDPs) due to security challenges in the neighbouring states."
He added that, "Kano state government is fully committed to ensuring that all eligible children are immunized through various programmes targeted at them.
"However, because of the investment made by the state government, the commitment of His Excellency, the Executive Governor of Kano state and other stakeholders, Kano state is at today, over 64 months polio-free.
"For December 2019, SIPDs campaign taking place in this month of January 2020, three million, five sixty four thousand, two hundred and sixty of 0-59 months old eligible children are targeted for vaccination, with three million, seven hundred and thirty two and forty thousand doses of vaccine made available."
According to him, "on the other hand, remarkable achievements and progress were recorded in Routine Immunization (RI) in Kano state.
"Some of the achievements recorded include and not restricted to establishment of Local Government Routine Immunization Coordination Centre (LERICC) in all 44 LGAs of the state.
"Procurement and installation of two 40 cubic-meter walk-in cold rooms for the state Cold Store, including construction of a new store for the walk-in cold rooms.
"Installation of new Solar Direct Drivers Refrigerators at the Ward level; sustaining in-sourced delivery of vaccines to the last mile; developed Reaching Every Ward (REW) micro-plan by all health facilities providing RI services.
"Conduct of reconciliation meeting between Ward Heads and service providers on monthly basis at Village Heads' houses; conduct of daily RI session in 95 per cent of secondary Health Facilities in the state, among other activities.
"Conduct of quality Immunization Plus Days (IPDs), National Immunization Plus Days (NIPDs) and Supplementary Immunization Activities (SIAs)."
Dr. Tsanyawa, however, appreciated the Vaccination Teams, "who sometimes, risk their lives by going house-to-house in some of the most volatile terrains and places, working along with traditional leaders to deliver this Oral Vaccine to our children.
"The LGA team, our taskforce members and Voluntary Community Mobilizers (VCM) are integral part of our success as they are on the frontline of this crusade for which we have almost reach an end but still requiring more efforts to take it to logical conclusion."
He further stated that, "it is worthy to reiterate that Kano state government is fully committed to providing adequate and quality healthcare services to the good people of the state.
"This has been confirmed by monumental support to improve routine immunization, provision of free-eye care services to decrease the burden of blindness in the state, regular employment of healthcare workers, training and re-training of various cadres of staff, including traditional birth attendants to reduce maternal and child morbidity and mortality.
"Continuation of sponsorship of students and various cadres of healthcare workers to study health and healthcare-related courses within and outside of Nigeria, upgrading and renovation of healthcare facilities, provision of basic and specialized equipments to our facilities, robust and efficient preparadness and response plan for disease outbreak and control and prevention of other diseases such as Tuberculosis, HIV/AIDS, malaria, hypertension, diabetes, among others."
Dr. Tsanyawa who thanked Governor Abdullahi Umar Ganduje for his immense support to polio eradication, also commended the support and contribution of development partners such as WHO, UNICEF, GAVI, CDC-NSTOP, Rotary International, Clinton Health Access Initiative (CHAI), MNCH2, Dangote Foundation, Bill and Melinda Gates Foundation, USAID, CORE Group, KECCOH-D, Catholic Relief Services (CRS), Malaria Consortium, Management Sciences for Health (MSH), Society for Family Health (SFH), HSDF, Solina, among others, in the area of immunization, nutrition, malaria, HIV/AIDS, Integrated Maternal, New-born and Child Health.
Tsanyawa, however, charged parents and care-givers to ensure that all the eligible children are vaccinated with Oral Polio vaccine (OPV) through house-to-house teams within the implementation days.