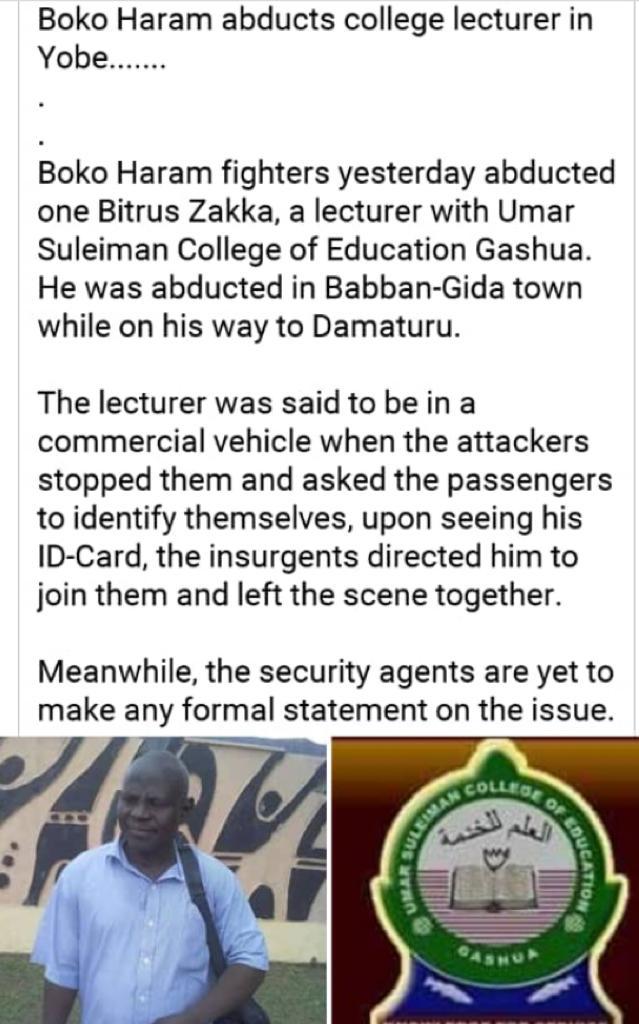 Report indicates that recently abducted lecturer, Bitrus Zakka, was amongst several motorists ambushed at a Boko Haram checkpoint last week.
Dr Zakka was asked by the terrorists for ID which he said he did not have.
The terrorists then demanded for and searched his bag. Upon opening it, they saw his bible and materials showing he was a lecturer. This innocuous find was deadly for him as he was both a Christian and a teacher of western education which the terrorists are against.
Dr. Zakka was immediately whisked away in a car by the terrorists and driven to an unknown destination. Other Muslim passengers were freed to continue their trip. Nothing has been heard of Dr Zakka since Wednesday last week.
The ambush occurred in broad daylight and a student who saw Dr Zakka being driven away in the direction of Dapchi, phoned his institution, Umar Suleiman College of Education Gashua, to report his abduction.
Others who were released by the terrorists filled in the details of what transpired between him and the terrorists.
A former student of his says Dr Zakka is very popular among both Christian and Muslim students which explains why a Muslim student was the one who reported his abduction to the school.
They day after his abduction, his bag and belongings were found at the scene of the ambush but he himself disappeared without a trace.
Family sources indicate that he was traveling to visit his family for Thanksgiving weekend.
They're concerned for him and also for the impact on his sickly daughter who is on a daily medication regimen.
It is not known if he is still living or will be held for ransom as a high value captive like the humanitarian aide workers, University lecturers, Leah Sharibu and others.
Having an ID has become a grave danger to road travelers in the region. If you fall into a Boko Haram checkpoint, they can attack you based on your religion and profession as indicated by your ID (Christian name.)
On the other hand, if you meet a military checkpoint and don't have ID, you can be arrested as a Boko Haram suspect.
In 2013, Boko Haram had mounted a roadblock and killed over 170 travelers by beheading with chainsaws after identifying them via their IDs.
Emmanuel Ogebe, ESQ
US Nigeria law group
Attachments area