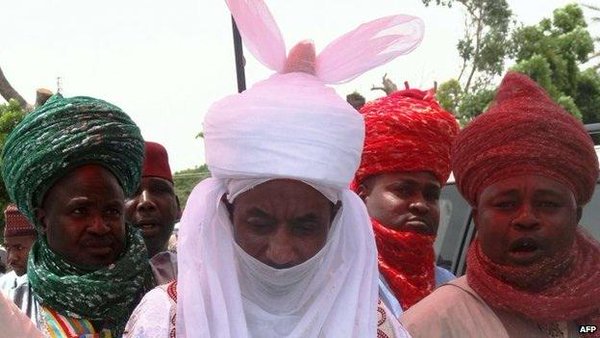 Advertisement
The below named case came up for ruling before Kano State  High Court of Justice, presided over by Justice  A.T. Badamasi. The plaintiffs/Applicants (Kano Kingmakers) filed a motion on notice asking the court to restrain the defendants/Respondents (The new Emirs for Bichi; Karaye; Rano and Gaya Emirates) from parading themselves as emirs and the Governor of Kano State from recognizing the emirs or taking any other action or further action in respect of the new Emirate Council (amended) 2019 Law.
Today the court in its considered ruling refused and dismissed the plaintiffs/Applicants application as it lacks merit in its entirety. The case was adjourned to 27th June, 2019 for hearing.
The court ruling bring the unfolding embarrassment suffered by the former Governor of the central bank of Nigeria [CBN] to a near crescendo. The rising political tide against the former CBN governor inevitably points beyond mere embarrassments to possible deposition and probable prosecution.
Already, knowledgeable spectators believe the end of the road for the former CBN governor is near. "He stepped on too many toes".
–
IN KANO JUDICIAL DIVISION
HOLDEN AT KANO
SUIT NO.: K/197/2019
BETWEEN:
YUSUF NABAHANI (MADAKIN KANO)
ABDULLAHI SARKI IBRAHIM (MAKAMAN KANO)
BELLO ABUBAKAR (SARKIN DAWAK MAI TUTA) PLAINTIFFS
MUKHTAR ADNAN (SARKIN BAN KANO)
AND
SPEAKER KANO STATE HOUSE OF ASSEMBLY
KANO STATE HOUSE OF ASSEMBLY
GOVERNOR OF KANO STATE
ATTORNEY GENERAL, KANO STATE DEFENDANTS
TAFIDA ABUBAKAR ILA
IBRAHIM ABDULKADIR GAYA
DR. IBRAHIM ABUBAKAR II
AMINU ADO BAYERO