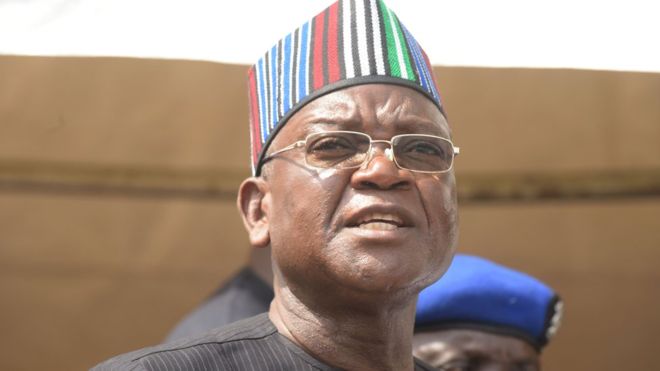 Loading ...
I am so disappointed in the bunch of the ignoramuses in Benue State and elsewhere who are not only gullible but strong-willed to swim in ignorance and negligence that the Governor of Benue State, Samuel Ortom is the defender of Benue Valley. They fell for Ortom's cheap antics used for his political and diabolical schemes.
I am among the group of people who know the politics played by Ortom in some of the Fulani herdsmen killings that took place in Benue State and refused to fall for his duplicity.
President Muhammadu Buhari is the one who made Ortom to be the governor of Benue State till this moment. When Rt. Hon. Emmanuel Jime initiated a legal action against Ortom for coming into All Progressives Congress (APC) through the 'window' and obtaining the gubernatorial ticket, Buhari set a reconciliation committee that mediated the crisis and saved Ortom because Jime had incontrovertible evidence to remove Ortom from that office.
One of the agreements that made Jime to withdraw the case was that Ortom will only serve one term and allow Jime complete the remaining term zoned to Minda in Zone B.
From July 2015 to May 2017 when Ortom was still in good terms with Buhari for coming to his recue, various deadly Fulani herdsmen attacks occurred that Ortom never accused Buhari of being responsible. He didn't even call his attention to the attack neither did he want anybody to link Buhari to the attacks or persuade him to do so.
Here are some of the Fulani herdsmen attacks that happened in Benue State from July 2015 to May 2017 according to a report by Christian Association of Nigeria (CAN) in 2018:
1. On July 7, 2015, many villagers and several others were injured following an attack on mourners in Imande Bebeshi in Kwande LGA of Benue State.
2. On November 5, 2015, 12 people killed and 25 others injured in Buruku LGA following an attack by suspected herdsmen.
3. On February 8, 2016, 10 killed and over 300 displaced in clash between herdsmen and farmers at Tor-Anyiin and Tor-Ataan in Buruku LGA.
4. From February 21 to 24, 2016, over 500 locals killed and 7000 displaced  in an attack on Agatu LGA by Fulani herdsmen which over 7 villages razed.
5. On March 13, 2016, 6 people including an APC youth leader killed by herdsmen in Tarka LGA.
6. On February 29, 2016, 11 killed in Edugbeho, Agatu LGA including a police inspector.
7. On March 10, 2016, over 2 people killed in Obagaji, Agatu.
8. On January 24, 2017, 15 people were killed by herdsmen, who attacked farmers in Ipiga village in Ohimini Local Government Area of Benue State.
9. On March 2, 2017, no fewer than 10 persons were killed in a renewed hostility between herdsmen and farmers in Mbahimin community, Gwer East LGA of Benue State.
10. On March 11, 2017, 7 persons were killed when herdsmen attacked Mkgovur village in Buruku LGA.
11. On May 8, 2017, 18 people were confirmed killed by herdsmen in Tse-Akaa village, Ugondo Mbamar District of Logo LGA.
12. On May 13, 2017, Over 44 people were killed were killed by herdsmen in three communities of Logo LGA.
13. On December 31, 2017 and January 2, 2018, over 70 people including 7 members of the Benue State Livestock Guards were killed by herdsmen after they invaded Gaambe-Tiev, Ayilamo and Turan all in Logo LGA as well as Umenger, Tse-Akor and Tomatar near Tse-Abi in Nongov district of Guma LGA.
Here are some pertinent questions that need pertinent answers:
1. Where was Ortom when all these attacks occurred?
2. Why didn't he blame Buhari for other attacks only to blame him when the December 31, 2017 and January 2, 2018 attacks occurred?
3. If Ortom were in good terms with Buhari, would he had organized the official mass burial he did for the 73 people killed?
4. Why did Ortom refuse to organize an official mass burial for the over 500 people that were killed in Agatu LGA but organized for the 73 killed in Guma and Logo LGAs?
5. Did Ortom politicised and over dramatized the killings in Guma and Logo including the mass burial for his political and diabolical schemes?
If Ortom were truly the defender of Benue Valley,  he would have started that from the day Fulani herdsmen killings started when he became the governor. He defrauded the minds of free thinkers by poisoning them to fall for his cheap antics that he is the defender of Benue Valley so that he will get cheap sympathy and defect from APC to Peoples Democratic Party (PDP) to get cheap votes which many weak-hearted Benue people fell for his trap.
When Sen. George Akume said the killings that took place in Guma and Logo on December 31  2017 and January 2, 2018 were politicized, many people misunderstood Akume.
Ortom used the killings basically for his political salvation after exploring Buhari's vulnerability which many people in Benue State fell for it.
Only God will judge Ortom at his own appointed time for using the lives of innocent people of Benue State for his political and diabolical schemes.