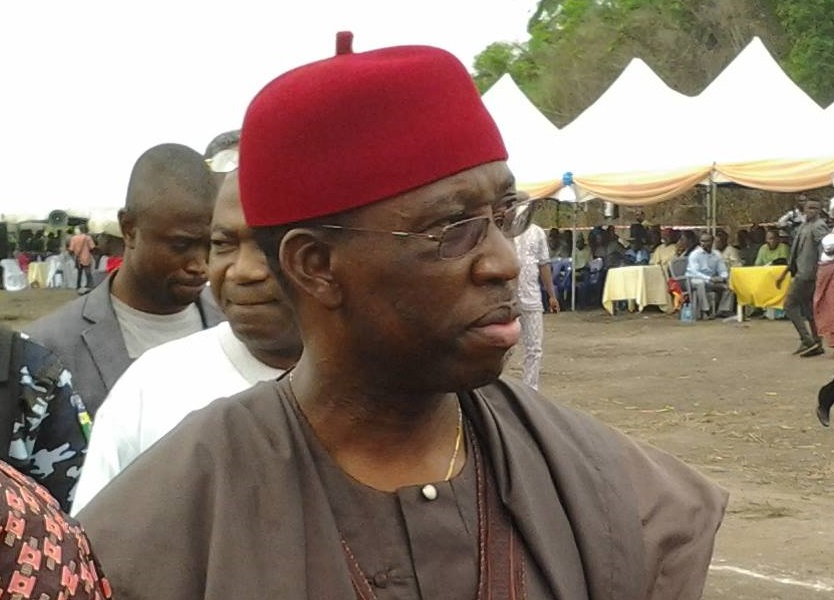 Loading ...
A four-man armed syndicate that has been terrorizing Asaba and its
environs that specializes in robbing and snatching exotic cars as well
as kidnapping their victims have been sentenced to death by hanging by
a Delta High Court sitting at Asaba.
The court presided over by Honourable Justice Flora Ngozi Azinge
(Mrs.) while delivering the court's verdict on Thursday that lasted
for several hours in a criminal case between the State and five
defendants, Uche Vincent Uzondu (M), Emeka Amukali (M), Paul Egwom
(M), Festus Oghali (m), and David Mario (m) in a 9-count charge
bothering on conspiracy to commit felony to wit; kidnapping, armed
robbery and wounding with intent, found four out of the five
defendants guilty of all the 9 count charge and were accordingly
sentenced to death by hanging on the count of armed robbery.
Justice Azinge, however, discharged and acquitted the 5th defendant,
David Mario of all the charges for lack of sufficient evidence by the
Prosecution linking him to the crime.
The court in its judgement, held that the state established and
proved beyond reasonable doubt the offenses for which they were
charged and that the defendants failed woefully to create any doubt.
While disbelieving the evidence of the defendants, the court further
held that from their confessional statements, they conspired and
worked together in synergy to perpetrate their nefarious criminal
activities, adding that their denials that they do not know each other
was a blatant lie and an after thought.
She ruled that from their confessional statements, two of the
defendants statements corroborated as they narrated vividly in their
separate accounts their modus oparandi.
In the particulars of offence filed by The Attorney-General and
Commissioner for Justice through the Director of Public Prosecutions
against the defendants, the Court was told that Uche Vincent, Paul
Egwom, Emeka Amukali who was on bail before the court verdict and
David Mario, on or about the 3rd day of December, 2014, at Asaba
within the Asaba judicial division, robbed one Ilechie Michael
Nnaemeke of his Lexus RX 350 SUV with registration no BDG 203 DA, two
mobile phones and other valuables while armed with a gun and also
wounded him with intent as he was shot in the leg when he raised alarm
during the scuffle the ensued.
On the 13th day of December, the accused persons carried out another
operation successfully in Asaba where they did not only rob one Titus
Ayuba, a Surveyor by profession, of his Lexus RX 350 SUV with Reg no
AKU 230 HT, one laptop computer, GPS receiver, cheque book and other
valuables while armed with guns but was also kidnapped and held
hostage for six days and collected an undisclosed sum of money from
his wife as ransom.
Not done with their insatiable appetite for robbing exotic cars, the
gang also on the 16th day of December, 2014 at Asaba within the Asaba
Judicial Division, robbed one another victim, Emeka Ojogwu of his
infinity SUV with Reg No AJ262AYB, the sum of N320,000, one wrist
watch and two mobile phones while armed with guns. They also held him
hostage for six days while a ransom of N600, 000 was said to have been
paid by his wife before he was released from captivity.
Nemesis however caught up with the gang when one of their victims
whose car was also snatched at gun point sighted his stolen car which
has already been painted to another colour around a shop along the
ever busy Asaba Benin Expressway and reported the discovery to the
IPO.
Acting on the tip off, when detectives swooped on the said shop where
stolen cars are refurbished, several cars were recovered while the
accused persons were apprehended and upon interrogation, they made
confessional statements admitting to have been responsible for the
spates of car snatching and kidnapping within Asaba and its environs.
Reacting to the verdict, the Attorney-General and Commissioner for
Justice, Peter Mrakpor Esq who spoke through the DPP, Ernest Edomwonyi
Esq said the court verdict is justice well delivered not only to the
victims but to society and expressed the hope that it will serve as a
deterrent to others.
The Attorney-General averred that the State Government zero tolerance
for crime was on course and advised youths to key into the various
educational and youth empowerment programmes of the Senator Dr.
Ifeanyi Okowa's administration. He advised youths to shun all forms of
vices and get rich quick syndrome.