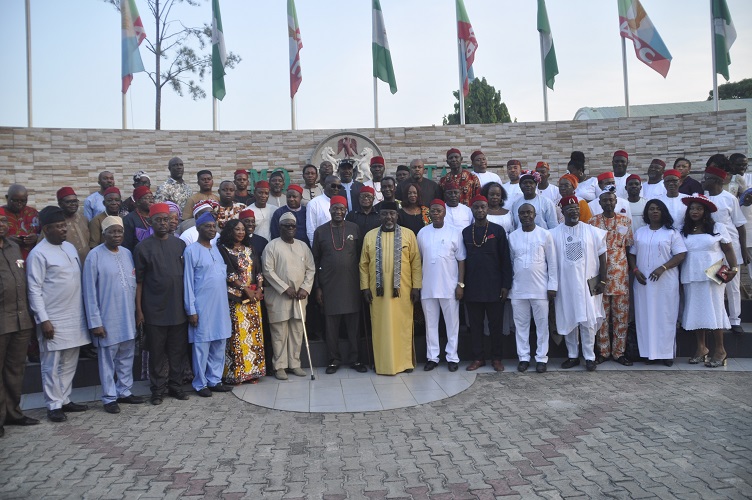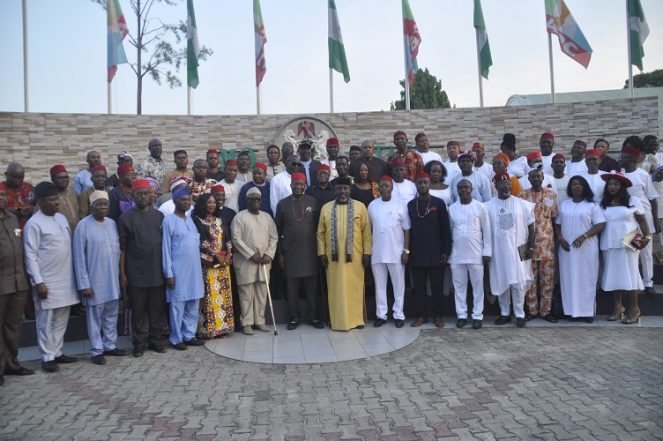 …As Governor Rochas Okorocha Urges Ohaneze To Make Other Nigerians See Igbos As Part & Parcel Of Them
…While Ohaneze President, Chief Nnia Nwodo Says Igbos Converge In Owerri For Celebration & Reappraisal
Leaders of Ohanaeze Ndigbo led by Chief Nnia Nwodo and other Prominent Igbo sons and daughters have arrived Owerri, the Imo State Capital, for the Igbo Day Celebration. Also in Owerri are leaders of Afenifere led by Chief Ayo Adebanjo.
While on a courtesy call to the Governor, Owelle Rochas Okorocha, at the Government House on Monday, December 16, 2018, the governor told Ohaneze leaders to take the needed steps to ensure that the rest of Nigerians see Ndigbo as part and parcel of them, adding that until other Nigerians begin to come to Igboland to invest like the Igbos do in other parts of Nigeria, the gap will continue to exist.
His words "Ohanaeze is a Socio-cultural Organisation like Afenifere and Arewa. Ohanaeze could relate and marry these organizations and use them to launch the Campaign that would truly make other parts of Nigeria to see Igbos as fellow Nigerians in whom they should be well pleased. We are highly misunderstood, and until you come to an Igboman's house you will not know how hospitable he is."
He continued "We are highly misunderstood. This is why we must use organizations like these ones I mentioned to tell our story so that other tribes may understand us".
The governor added "It is a privilege for any leader to host the leadership of your people. My joy knows no bound for the fact that we still have an Ohanaeze today. Few years ago, it was a different story and that's why I must salute the immediate past President-General Dr. Igariwe and Chief Ralph Obioha. When it looked like Ohanaeze will be in pieces because of crisis, they honoured me and came to Imo State. What we thought was beyond fixing, surprisingly both parties agreed and today we have Ohanaeze of our dream".
He remarked "Many people have wondered why I should build such a gigantic building for Ohanaeze. It was easily interpreted to be either for political reason or social reason, but believe me, I did so because I truly understand the people, that Igbos are not good beginners but good finishers. When others start, they don't start but once they start, they can defeat any other person. Understanding this, I thought it were to build that edifice for my people of Igbo nation to help them come together. I am happy the building is nearing completion and will soon be handed over to the Igbo nation".
The governor continued "There is a lot difference between the Imo State of today and Imo State of 2011 in all spheres of human existence. You have just attested what you have seen but I don't think you have seen it all. That goes a long way to explain why cultural organizations like yours should hold your governors accountable because when funds come to those states, it is indirectly given to those cultural organizations because they are among the beneficiaries, of those funds. I urge all of you to set up a special committee to go round and assess what your leaders are doing with the funds allotted to them".
President of Ohanaeze, Chief Nnia Nwodo in his speech said the Igbos are meeting in Imo to celebrate and appraise themselves, and to see if there were things they needed to do that were not done and then take the needed actions to see those things done.
He said "Ohanaeze is interested in seeing how our people who are in government have fared. We owe it to our people to tell them who has done well and who has not. We can rightfully say that Owelle Rochas Okorocha has done very well in the area of infrastructural transformation of Imo State as Imo has changed greatly and is now appealing to foreign investors."
He stated "Rochas Foundation during the government of Chief Igariwe promised to build headquarters for Ohanaeze. One would have thought it was a political statement, and sometimes such promises are not fulfilled but not for a man like Governor Okorocha. As I speak to you now, that headquarters is already roofed, tiles have been erected, doors are been fitted. Only three weeks, he removed the roofs of our hall and redesigned the Hall, right now he is giving us a fence better than that of Government House of Imo. Governor Rochas has a very large heart. It will go on record that no Igbo leader has been as generous to Ohanaeze as Rochas Okorocha. I seize this moment to thank him."