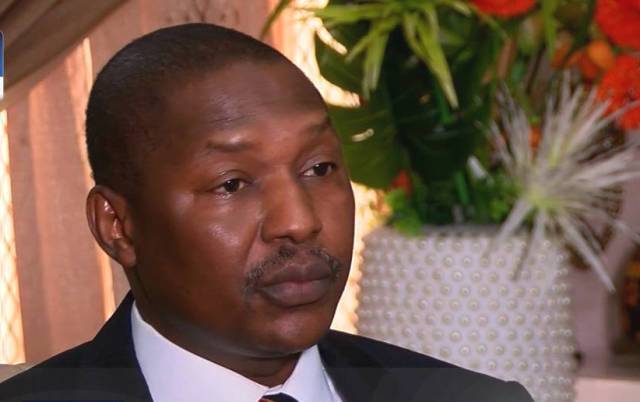 The Honourable Attorney-General of the Federation and Minister of Justice, Abubakar Malami (SAN), has said judicial officers must always strive to exhibit professionalism, impartiality and courage in the discharge of their official responsibilities inspite the challenges they might face during the electoral period and thereafter.
This is contained in a press release made available to newsmen in Abuja on Wednesday, Comrade Salihu Othman Isah, Special Adviser to the Attorney General of the Federation and Minister of Justice, Mr. Abubakar Malami, SAN revealed that the AGF made the statement at the on-going 2018 Annual General Conference of the Law Officers Association of Nigeria (LOAN) on Monday in Abuja.
In his goodwill message titled, "The Law Officer as an Unbiased Umpire amidst Economic Challenges and Realities Towards the 2019 General Elections", Malami pointed out that, ".… it aptly captures the role of the law officer in the national effort to consolidate democracy and the rule of law in our country".
The AGF represented by the Director, Law Reporting, Federal Ministry of Justice, Martins Okoi said, ''As we prepare for the 2019 general elections, which is another watershed in our journey to nationhood, those qualities will be tested often and often again as law officers proffer legal advice at various levels and also defend the public interest in election-related litigation.
"It is of course indisputable that law officers faces challenges, including economic, every day in the course of his duties like other members of the public. He must however never compromise on his ethics on account of such challenges, no matter how severe they might appear''.
The minister explained that 2018 marked the first full year of the implementation of a regime of 'Peculiar Allowances' which has substantially improved the take-home pay of the legal officers. He expressed satisfaction that the feat was achieved during his tenure as the AGF after over two decades of advocacy by his predecessors-in-office for presidential approval to achieve this level of enhanced welfare for their officers.
He promised to pursue other initiatives involving training and collaboration that would ensure that legal officers do their work in an atmosphere where welfare is given utmost attention.
"Law Officers however must remember that improved welfare also comes with expectations for improved services. They can therefore achieve this through greater dedication to duty, utmost commitment to the virtues of professional ethics and the Public Service Rules as well as devotion to self-development and skill acquisition", he explained.
He charged the participants to explore means of improving the quality of Justice Delivery across Nigeria, urging the state governments to find it necessary to adopt the Administration of Criminal Justice Act as domestic legislation in order to gradually standardize and improve the quality of criminal justice administration in the country.
The Solicitor-General of the Federation and Permanent Secretary Federal Ministry of Justice, Dayo Apata in his goodwill message highlighted some of the challenges confronting the Ministry. He listed some of them as delay in the payment of duty travel allowances (DTAs), late payment or non-payment of robe allowance, trainings, non implementation of 1994 circulars by some states.
He however assured that permanent solution is underway to address the issues so that law officers could rise above all the temptations and financial impecuniosity.
Also represented by the Director, Law Reporting, Martin Okoi, the SGF said, "It must be noted that as they are gathered in this conference to deliberate on topical national issues as it affects their duties and responsibilities, especially now that 2019 general election is knocking at our doors, we must not allow sentiments and our teething challenges to becloud the sanctity of our oath of allegiance to the Constitution of the Federal Republic Of Nigeria, always remember that we have a tradition, a culture and of course an ethics that we must guide jealously, collectively we can make Nigeria great again".
He congratulated the national executive members of LOAN for their doggedness at ensuring that the welfare of its members and protection of the rule of law remains non-negotiable irrespective of panoplies of challenges that comes their ways.
Also the former HAGF and Chairman of the Conference, Kanu Godwin Agabi (SAN), urged Malami to make use of officers in the ministry more and encourage them by ensuring that appropriate allowances are paid to them duly.
Agabi enjoined them to always work hard and be passionate enough in the discharge of their duties.
The National President of LOAN, Yusuf Abdullahi Abdulkadir in his welcome address explained that the conference is an annual event which commenced in 2015 by his predecessors, aimed at reviewing their performances and activities for the year, with a view to improve their skills, discuss all impediments to effectively discharge their duties and responsibilities.
He further explained that the forum provides enabling environment for them as a body to discuss their welfare and share their burden with Government and their most respected Attorney Generals collectively.