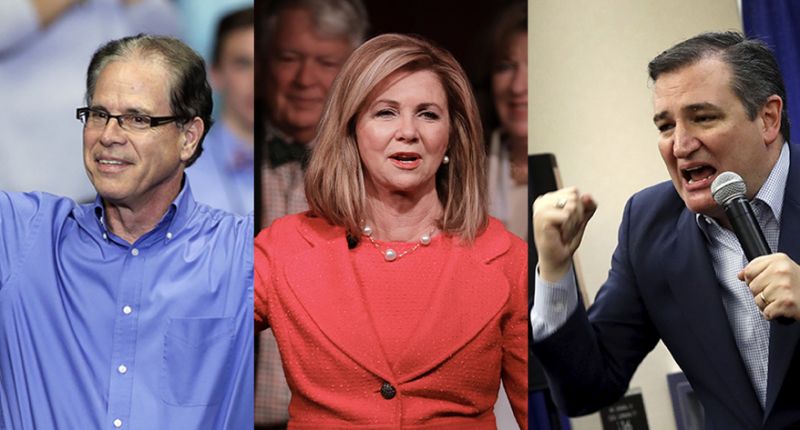 Loading ...
Propelled by an unprecedented surge of rank-and-file enthusiasm and widespread urban and suburban dissatisfaction with President Trump, Democrats took control of the House of Representatives for the first time since 2011.
The party was even projected to gain more seats than in 2006, the year they delivered what then-President George W. Bush described as a "thumping."
"Thanks to you we owned the ground," House Minority Leader Nancy Pelosi — likely the next House speaker — said Tuesday night. "Thanks to you, tomorrow will be a new day in America."
Yet with victories in Tennessee, Indiana, North Dakota, Missouri, Florida and Texas, Donald Trump's Republican Party extended its majority in the U.S. Senate, capitalizing on a lopsided battlefield that forced Democrats to defend 10 seats in states Trump won in 2016.
The divergent outcome is largely a repudiation of Trump, who told a rally last month in Mississippi to "pretend I'm on the ballot" — and a partial vindication.
It all depends which side of the widening gap between Red America and Blue America you stand on.
Voters turned out in record numbers to render a verdict on Trump after two years in which he has monopolized the media, polarized the electorate and dominated American political life like no president since Franklin Roosevelt — or arguably ever.
As the last ballots trickled in, it became clear that America's verdict wasn't mixed so much as divided. The red, rural parts of the country voted heavily Republican. The blue, urban parts voted heavily Democrat. And the purple, suburban areas leaned leftward — far enough to flip dozens of suburban GOP House districts, but not far enough to save moderate Democratic senators such as Claire McCaskill and Joe Donnelly in conservative strongholds such as Missouri and Indiana.
Winning the Senate was always a long shot. Still, the party was depending on Donnelly, McCaskill and Florida's Bill Nelson to hold their seats, and hoping that Phil Bredesen, a popular and moderate former governor, could eke out a win against GOP Rep. Marsha Blackburn. In Texas, Beto O'Rourke became a folk hero for liberals who thought he might defy gravity and defeat Sen. Ted Cruz, the Republican.
It was not to be.
Democrats faced serious hurdles this cycle. Republicans largely oversaw the last round of redistricting, redrawing the congressional map in ways that force Democrats to win the national popular vote by seven or more percentage points just to secure a bare House majority. On the Senate side, Democrats were defending 26 seats to the GOP's nine — by far the most difficult map either party has faced in decades. Republicans in some red states passed a set of restrictive voting laws that disproportionately handicap Democratic constituencies. Finally, the economy is humming and unemployment has fallen to a 48-year low — factors that traditionally boost the party in power.
None of that, however, prevented Democrats from flipping the House. In suburban, GOP-held districts that voted for Clinton in 2016, Democrats performed well: Republican Rep. Carlos Curbelo of Miami, a moderate who co-founded the House climate change caucus, lost to his Democratic challenger, as did Northern Virginia's Barbara Comstock, New Jersey's Leonard Lance, Dallas's Pete Sessions, Minnesota's Erik Paulsen and Colorado's Mike Coffman. And strong showings in Richmond and Oklahoma City, where GOP incumbents Dave Brat and Steve Russell went down in defeat, suggested Democrats could continue to pick off Trump districts and cushion their likely victory.
A Democratic win in the House will provide a crucial check on GOP rule and usher in a class of lawmakers in both Washington, D.C. and state capitals across America that will be younger, more female, more diverse and more progressive than any in U.S. history. Their ranks include the first two Muslim women in Congress, Rashida Tlaib of Michigan and Illhan Omar of Minnesota; Jared Polis of Colorado, the first openly gay man to be elected governor of any state; and Sharice David of Kansas, the first Native American woman in Congress as well as the Sunflower State's first openly gay representative.
The contours of a Democratic House victory took shape early on.
In previous cycles, Democrats had failed to field challengers in tons of politically promising districts, conceding hundreds of seats up and down the ballot to uncontested GOP incumbents. But 2017 and 2018 attracted droves of diverse, often rookie candidates appalled by Trump and itching to "resist." By Dec. 31, 2017, more than 2,100 people had filed paperwork to run for the House or Senate, the most since the Federal Election Commission started keeping track in 1977. At that point, 510 Democratic House challengers had raised $50,000 or more, just shy of the GOP's record-setting total (522) from 2010 — the year Republicans wound up flipping 63 seats and retaking control. By the end of primary season, Democrats were challenging all but 10 Republican representatives — an unprecedented feat that eventually helped the party capitalize on Election Day.
Women played a key part in this recruitment boom. Amid the backdrop of the broader #MeToo movement, more women launched campaigns this cycle for the U.S Senate (53), U.S. House (476), governor's mansion (61) and state legislature (3,388) than ever before. Many were first-time candidates; most were Democrats. Activism among women — especially college-educated suburban women —skyrocketed as well.
Money was also on the Democrats' side. Overall, 65 percent of this election cycle's House donations have gone to Democratic candidates. During the last 20 years, Democrats have only topped the 50 percent mark once before (in 2008), and neither party has ever raked in more than 57 percent. Over the past three months, more than 90 percent of House Democratic candidates in competitive races outraised their Republican rivals.
Meanwhile, the statewide returns were not as dire for Democrats as their Senate losses made it seem. While Democrats lost marquee governor's races in Florida and Ohio — and trailed in Georgia, where breakout star Stacey Abrams refused to concede to Republican Brian Kemp — they picked up at least six governor's mansions overall and one hotly contested Senate seat in Nevada, where Rep. Jacky Rosen edged out incumbent Republican Sen. Dean Heller.
Yet in some ways the bitter polarization of the results reinforced Trump's view of the country and validated the blunt-force messaging that he imposed on the campaign during its final days.
Trump brought prophecies of the apocalypse to red America, passing up the opportunity to run on positive economic news or appeals to a positive vision of the country.
The president did talk about GDP growth and low unemployment at campaign events, but he has always said he never gets credit for anything, and so he campaigned as if that were true. He was reportedly angered by an ad produced by his reelection campaign that touted the economy and showed a mother watching her daughter grow up, preferring a commercial that demonized immigrants by portraying them as violent criminals. That ad was deemed so racist that every TV network — even Fox News —  rejected it.
He held 30 rallies over the final five weeks, and 14 rallies over the final two weeks, in large arenas and on airport tarmacs, where he talked about a migrant caravanpassing from Central American countries into Mexico as if it were massed on the U.S. border, despite a U.S. military assessment that said they expected 20 percent of the 7,000 or so people in the caravan to actually reach the U.S.-Mexico border, and not until a few weeks from now.
Trump called the refugees an "invasion." He floated conspiracy theories about Democrats and billionaire George Soros having something to do with the caravan, but offered no proof. He described those in the caravan as dangerous criminals, and speculated that some might be terrorists from Middle Eastern countries, which also contradicted intelligence findings from the U.S. military.
The unsubstantiated claims and accusations were so many, and so wild, that Trump overloaded the circuits of anyone trying to keep track of whether any of it was actually true.
But Trump's appeal to his core supporters has always been centered around an "us vs. them" mentality, and his message built on that narrative.
The theory here was that many of those who voted for Trump in 2016 were nontraditional voters who might have rarely, if ever, voted in a midterm election. They resembled the "low propensity" and "low information" voters that so often bolstered Democratic candidates in presidential elections, but failed to show up in midterm elections.
A top Republican source with knowledge of voter data held by the Republican National Committee told Yahoo News the number of Trump voters who were non-traditional midterm voters had become an "obsession" for key GOP operatives, and that this voting bloc had become key in many contests Republicans hoped to win.
So Trump's fear-mongering message was a tool meant to activate voters who cared little for the intricacies of policy or governance and sometimes even facts, but who would be eager to continue the movement that Trump started in 2016.
The bottom line for many of Trump's supporters was that the president — stymied in their view by Congress as he sough to build a wall across the entire southern border — was doing something, anything, rather than nothing.
Trump ordered 7,000 U.S. military troops to portions of the border in Texas, and said that number could double.
He also floated the idea of revoking birthright citizenship through executive order, something he has no power to do.
The question was whether Trump's inflammatory approach would alienate middle-of-the road voters who lean conservative but don't like him.
The answer was that in key Senate states like Indiana and Tennessee, enough voters craved red meat. But in the rest of America, Trump's rhetoric drove Democrats to the polls — and Republicans to defeat.
Even Trump seemed conflicted on the eve of the election.
"I would like to have a much softer tone," Trump told the conservative Sinclair Broadcasting Group on Monday.
But, he added, "I feel, to a certain extent, I have no choice."