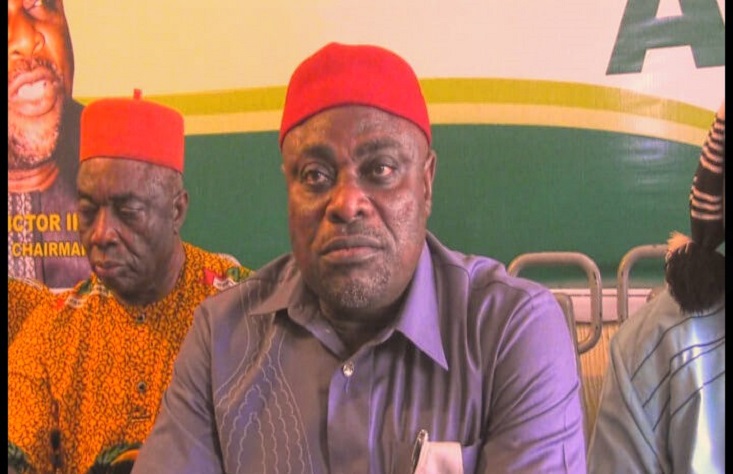 Loading ...
Some aggrieved aspirants of the All Progressives Grand Alliance (APGA) in Anambra state have called for the resignation of the party's national chairman, Chief Victor Oye.
They made the call on Tuesday in Awka during a meeting with members of the Reconciliatory Committee set up by Gov. Willie Obiano following the crisis rocking the party.
An aggrieved aspirant, Mr Casmir Nwafor, who sought to represent the people of Orumba North and South Federal Constituency, described the party primaries as "charade" orchestrated to destroy APGA.
"APGA was designed to take over the South East but from what transpired recently, it may lose Anambra to other parties," he said.
While presenting a resolution and demands from the Forum of Aggrieved Aspirants to the committee, Nwafor asked for a refund of their monies spent on forms.
He noted that neither delegate nor primary elections were conducted in many constituencies, yet results were announced.
Also speaking, Mr Ofobike Okoli alleged that 80 per cent of the tickets given to party members were released at the Governor's Lodge.
"Gov. Willie Obiano is the Board of Trustee Chairman of our party, yet his silence towards the cataclysm and havoc caused by the National Chairman and his National Working Committee is a source of worry.
"We are saying Oye should resign within 72 hours," he said.
Reacting however, the chairman of the committee, Mrs Uju Okeke appealed to the aggrieved aspirants to remain in the party, assuring them that the committee will remain on the side of the truth.
"APGA is a family and the party is not ready to lose its members. We will deliver without fear or bias," she said.
Okeke said an interim report will be submitted to the governor before the expiration of the 72 hours ultimatum, while the peace meeting would continue.