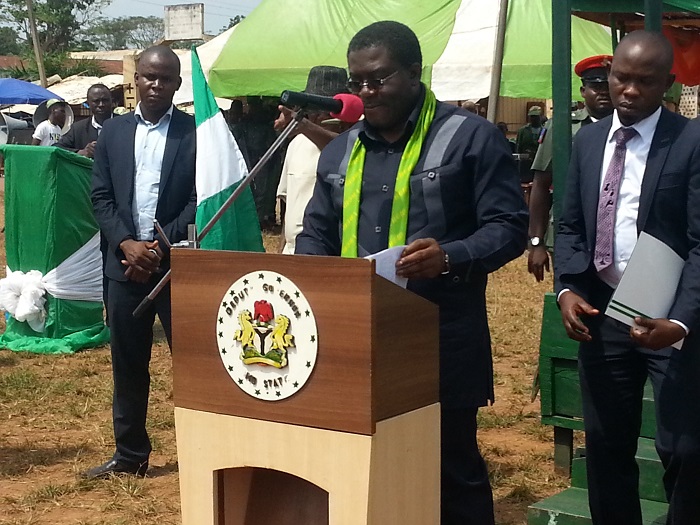 Imo Deputy Gov Describes Allotments Of Votes To Him As Fraud
Loading ...
The Deputy Governor of Imo State, Prince Eze Madumere, has taken exception to the result of the purported governorship primary election rerun, where the unknown persons parading themselves as committee apportioned votes to him, describing same as monumental fraud.
He described the action of Governor Rochas Okorocha led election committee as not only mischievous but morally unacceptable.
Prince Madumere reminded the purported committee of the resolution of Imo All Progressives Congress Stakeholders (Coalition) not to go into any repeat of primary elections owing to the fact that the leadership, aspirants and members of the our great party were never consulted albeit informed of any election.
However, last Friday, October 5, 2018, Six of the governorship aspirants jointly addressed newsmen, informing the leadership of the party and Nigerians at large that they stand by October 1, 2018 governorship election conducted by Alhaji Ahmed Gulak led Committee where Distinguished Senator Hope Uzodinma came first followed by the Deputy Governor, Prince Eze Madumere.
It will also be recalled that yesterday, October 6, 2018, at the Party headquarters, 6 aspirants who are, Prince Eze Madumere, Senator Hope Uzodinma, Sir Jude Ejiogu, Sir George Eche, Chief Chris Nlemoha and Commodore Peter Gbujie (rtd), reiterated their stance to boycott the election following the fact that they were unaware of the purported primary elections and because of the pendency of legal suit, originating summon and motion of interlocutory injunction from a court competent jurisdiction, Abuja restraining any further APC primary elections in the State until the determination of the matter before it.
The Deputy Governor therefore wondered why impunity has continued to rein supreme in the State unabated.
He therefore took exception to allotments of votes to them having opted out, an act he described as fraud.
Meanwhile, he also averred that their group of 6 aspirants has been vindicated as Governor Okorocha's brother-in-law, Chief Chuks Ololo who also pulled out of the purported exercise, wondering why Imo All Progressives Congress governorship primary election should be between Governor Okorocha's son-in-law, Mr. uche Nwosu and his estate Manager, Mr. Chima Anozie.