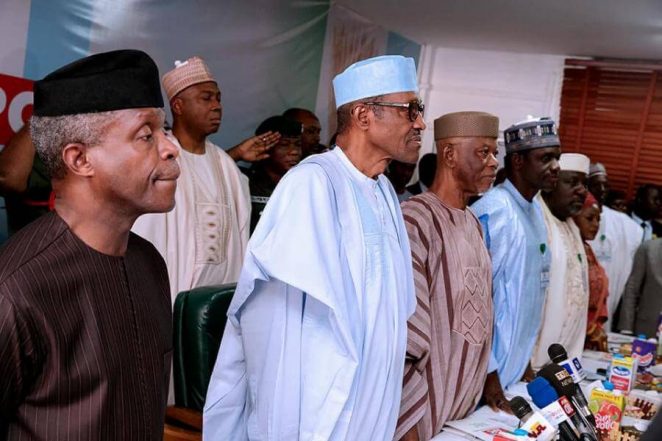 September 13, 2018
Press Statement
With Buhari As Sole Presidential Candidate, APC Is Now Doomed
The Peoples Democratic Party (PDP) says with the emergence of President
Muhammadu Buhari, who has become grossly unpopular among Nigerians, as
its sole Presidential candidate, the All Progressives Congress (APC) is
now irredeemably doomed for a crushing defeat in the 2019 general
elections.
The party points out that President Buhari's fear to contest an elective
presidential primary, for which he and a few APC leaders scared away
other presidential contestants within their party with threats and high
nomination form fees, ended up ruining APC's chance of fielding a good
candidate for the election.
Had President Buhari shed his desperation for power and allowed for
internal democracy within the APC, particularly when it became clear
that Nigerians across board have become averse to his re-election, due
to his incompetence and insensitivity to the plight of the citizens,
there would have been little hope for the APC.
In muzzling contest in APC and gleefully emerging a sole candidate,
President Buhari has merely won a pyrrhic victory; a General without a
troop, with no capacity to face a general election, as the army of
stakeholders and the masses that supported him in 2015 have since left
him because of his unfulfilled promises and many failures in governance.
Now that Mr. President has confirmed by his body language that he had no
chance in a party he leads, how then can he stand a chance in the
general elections where millions of Nigerians, who are suffering untold
hardship because of his misrule are only waiting to deal him a blow with
their votes?
Owing to Buhari's incompetence, Nigerians' purchasing power has become
abysmally low, industries have wound up with attendant mass job losses,
foreign direct investments have hit all time low, international partners
have totally lost confidence in doing business with our compatriots,
while this administration has no economic blueprint except borrowing.
Since President Buhari's declaration to contest the 2019 election, true
democrats and other well-meaning citizens have continued to leave the
APC in droves to the repositioned PDP, which has now become the rallying
platform for all Nigerians, in their collective quest for a new
President among the array of very credible aspirants in the PDP.
Moreover, while it is settled that President Buhari is no match to any
of our presidential aspirants, all indices points to his imminent defeat
as the PDP remain committed to a credible, free, fair and transparent
Presidential primary, where Nigerians will freely participate to throw
up that President that will lead our nation to the path of unity, peace,
good governance and economic prosperity for our people.
Signed:
Kola Ologbondiyan
National Publicity Secretary