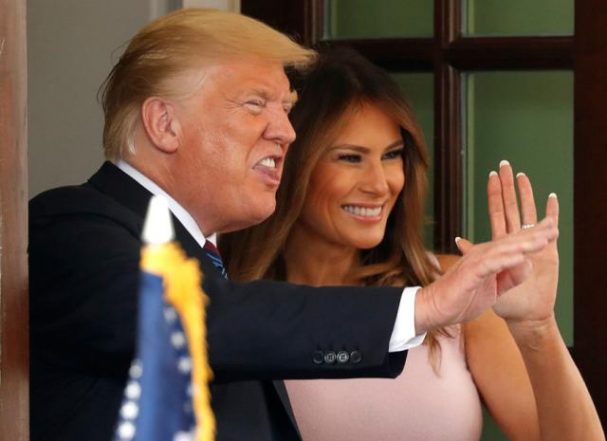 Bob Woodward's new book reveals intimate details of President Trump and first lady Melania's relationship
Bob Woodward's explosive new novel released on Tuesday provides a glimpse into the often-private relationship between President Donald Trump and first lady Melania Trump.
In his exposé "Fear: Trump in the White House," Woodward claims that the president and first lady actually do like each other, despite multiple reports that have claimedotherwise.
"West Wingers and those who traveled regularly with Trump noticed that he and Melania seemed to have some sincere affection for each other despite media speculation," Woodward wrote, according to People.
However, Woodward also notes that Melania operates "independently" and that the couple "never really seemed to merge their lives," adding that the first lady's "primary concern" has always been the pair's 12-year-old son.
"She's obsessed with Barron," Woodward wrote, quoting an inside source. "That is her focus, 100 percent."
Woodward's new book paints a slightly warmer portrait of the first couple's relationship than prior reports have done.
Sources told US Weekly in February 2017 that the first lady refused to share a bed with her husband and that she "does not keep hidden from everyone around her how miserable she is."
A Washington Post article published in May 2018 described a chilly relationship between Trump and Melania in wake of allegations of the president's past relationships with adult film actress Stormy Daniels and former Playboy model Karen McDougal. The report alleged that the first lady moved out of the White House to the suburbs of D.C. with her son in response to the allegations of infidelity.
When pressed on the rumor during a May press conference, White House press secretary Sarah Sanders called the claim "outrageous and ridiculous."
"The first lady lives here in the White House, we see her regularly, and I think that's something that belongs in tabloid gossip, not on the front pages of the Washington Post, and I hope that they'll do better next time," she added.