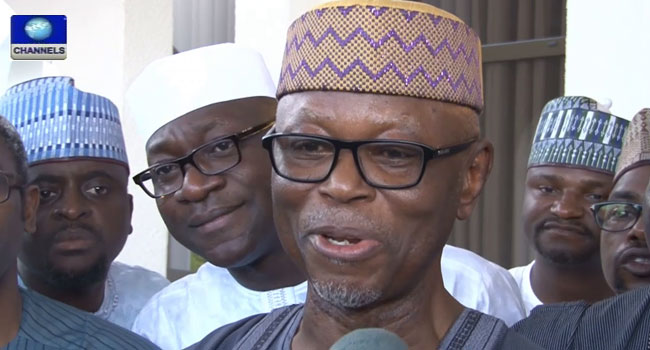 Being APC Member Doesn't Protect You From Prosecution For Corruption —Oyegun
IMMEDIATE past national chairman of the All Progressives Congress (APC), Chief John Odigie-Oyegun spoke on the state of affairs of the party since the current chairman, Comrade Adams Oshiomhole took over as boss, the inconclusive Osun state election, President Muhammadu Buhari performance and other national issues.
Hendrix Oliomogbe brings the excerpts:
How has it been so far since you left office as APC Chairman?
I am hoping that things will eventually straighten out. I am far from the heat and so I am not feeling it. In any institution, it must go through phases. This is a new institution. The new national chairman of the All Progressives Congress  (APC), Comrade Adams Oshiomhole had his own target, principles. We have to get used to the new ways, ideas and eventually things will settle down.
I don't want to get swallowed up by local politics. I have been at the national level  and will keep it that way. It's been a very interesting and challenging experience. I did my best according to the wisdom God gave me. I am very satisfied with the state of the party.
What is your assessment of President Muhammadu Buhari over three years after he was sworn in?
I am still with President Muhammadu Buhari because of what he represents. In a country without heroes, Buhari stands out. He has the traits of integrity which the nation needs. I am still a very strong supporter of Buhari. Nigeria is a society with too much corruption. He is not perfect but at present he represents what the nation needs.
What is your opinion on the Osun state governorship election which was declared inconclusive by the Independent National Electoral Commission (INEC)? Is democracy not on retreat in the country?
There is no fear that the inconclusive Osun state governorship election will extinguish democracy. The nation and the voters are more mature now. The Osun election is not a national election. It is based on local misunderstanding and issues. What is important is that the APC government allowed the people's will to prevail. The people were allowed to express their franchise and every vote counted. There were lots of positives. My hope is that voters will reward APC in Thursday's rerun by giving it victory.
President Buhari was quoted recently as saying that national interest should override the rule of law. What do you have to say about that?
We should not interprete the statement to its fullest (extreme). When the very fabric of our society is threatened the rule of law can bent to save the country. We can turn a blind eye a little to strict adherence to the rule of law.
Very soon, Nigeria will be 58. How do you assess the country 58 years after independence? Are we better off?
We have done well as a nation. We may not have optimized our potentials. We certainly have not made enough progress considering our endowment, resources and intellect of our people. There are challenges of multiculturalism, inconsistency of leadership, lack of ethics , corruption and love. Corruption is abysmally responsible for our lack of progress.
The opinion in some quarters is that the fight against corruption is selective. That it is a smokescreen to witch hunt political opponents. What do you say about that?
It is a totally fake circle of truth that is going on as regards the fact that Buhari does not fight corrupt APC members. The principal culprits are APC members. Critics said that people join APC to stop corruption but APC members are being jailed. Being an APC member does not protect you from prosecution for corruption.
Going by facts on the ground, what can you point to as President Buhari's legacy in Edo state? How will you convince Edo people to vote him in the 2019 elections?
We live in a federation. People should direct  their attention to states so that governors can be held more accountable. Some states like Rivers, Bayelsa with only nine local government areas, Akwa Ibom, Delta, Lagos and Kano are very rich. Some of these rich states get billions. People clap  a few schools and roads completed. These states collect billions of naira every month but what do they do with the huge amount? It amazes me that a state like Borno with all the challenges of insurgency it is facing and without resources is not in debt. People should leave the federal government alone. Federal Government grapples with electricity, major education policy. You don't expect the federal government to build your rosds. I deliberately refused to answer the question. Let us beam the searchlight on states which are supposed to provide basic infrastructure.
Former President Olusegun Obasanjo accused President Buhari of nepotism. His critics accused him of being biased against the South in favour of the North in key appointments. Almost all the security chiefs are northerners. Are you comfortable?
Sit down and take a look at the appointment in the South and judge for yourself. It is the same circle of untruth that I earlier mentioned. The Finance Minister is in acting capacity. The seat belongs to Ogun state. The issue will be resolved. Let's not over flog the issue.
On the June 12, 1993 presidential election which was won by the late business mogul, Chief Moshood Abiola and annulled by former military President, Gen. Ibrahim Babangida? As a member of the National Democratic Coalition (NADECO), you were a prominent actor.
The June 12, 1993 election which was won by Abiola refused to die. It has become a light house for Nigerians. The way it was handled by President Buhari, 80 per cent of Nigerians are in support. The only thing is that Abiola died and so could not actualize his mandate. I am yet to recover from the June 12 annulment. My fish business was destroyed.
–
Source: https://www.tribuneonlineng.com/166004/