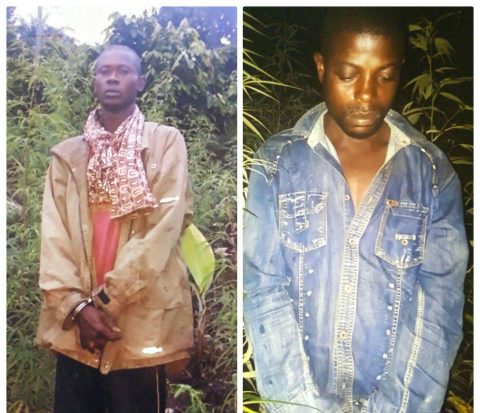 NDLEA Arrests 2, Destroys 5 Farms Of Cannabis In Edo
The Edo State Command of the National Drug Law Enforcement Agency (NDLEA), has confirmed the destruction of 4.3864 hecters of canabis in five farms.
Two suspects were also attested by the agency in connection with the illicit farms. Their names were given as Orhiowobho Isaac (41), and Bayode Ohiomokhe, (34).
One of the farms was sighted in the Owan East Local Government Area of the State, two others were found in the Ovia South-West Local Government Area.
The State Commander of NDLEA, Mr. Buba Wakawa, who confirmed the arrest on Wednesday, said that drug barons had suffered serious setbacks with the cannabis farms destroyed.
Wakawa said the arrest of the two suspected cannabis farmers and the destruction of the farms was in an effort to reduce the problem of illicit drugs in the State, adding that any attempt to jeopardise food security in the state would be highly resisted.
He said, "We successfully discovered and destroyed five cannabis farms measuring 4.3864 hectares. Three of the farms were located in Ikhin forest in Owan East Local Government Area of the State while two others were detected in Ugbogui forest in Ovia South West area of the State.
"In addition, two cannabis farmers were also apprehended in connection with the illegal cultivation at Ikhin forest and will soon be charged to court."
One of the suspects, 41-year-old Orhiowobho Isaac, who was arrested in a hut inside a cannabis farm, said that he cultivated the illegal drugs because he needed money for his medical expenses and family upkeep.
The father of five children with two wives, said, "I attended Usse Primary School, but could not further my education, following the death of my father.
"I was introduced to cannabis cultivation by a friend because of the expensive medical expenses required to fix my deteriorating health condition as well as my family upkeep. This is my first time of cultivating cannabis."
On his part, Ohiomokhe, who confessed to his involvement in cannabis cultivation, said that life had been very unfair to him.
"I have suffered unduly in a bid to make ends meet. I dropped out of junior secondary school in 2003 due to lack of financial support.
"I was a commercial motorcyclist, but after a fatal accident, I began subsistent farming of cassava and corn. Last year, I was introduced into cannabis cultivation because of the high profit involved.
"This is my second attempt at cultivating cannabis and I feel very bad being arrested by NDLEA officers inside my cannabis farm," he said.
In a related development, a blue Renault car laden with 234 blocks of compressed cannabis weighing 140kg, meant for shipment to Kaduna State, was intercepted by the motorised patrol team of the Command.
The vehicle, with registration number BC 143 MKA, was seized at Otuo village in Owan West Local Government Area, based on intelligence report.
According to the Edo NDLEA Commander, Bubs Wakawa, a preliminary investigation showed that a suspected member of a cannabis smuggling syndicate had wanted to smuggle the compressed blocks of cannabis to Kaduna State when officers raided the premises.
He however assured stakeholders that the fight against drug traffickers will continue unabated until the battle is completely won.
"We are not giving up on our systematic crackdown on drug traffickers and I urge all citizens to partner with the Agency by reporting all suspected drug activities to the State command of the NDLEA. On our part, all information provided shall be treated swiftly and professionally.
"The ultimate target is to work towards a society that is free from illicit drug cultivation, trafficking and abuse.Meanwhile, efforts are ongoing to arrest other suspected members of drug trafficking cartels.