Group Writes Oshiomhole On Hon Ibrahim Baba Bribery Of Delegates
A non-governmental organization the Bauchi coalition against financial crimes and injustice [BACAFCI] has written the national chairman of the All Progressive Congress [APC], Adamu Aliyu Oshiomhole over shady dealings within the party in Bauchi State aimed at subverting the 2019 primary election.
According to the letter with was acknowledged received by the office of the National Chairman of APC on August 16, 2018, the shady practice engaged by the House of representative member, Hon. Ibrahim Mohammed Baba included open bribery of the party delegates at Katagum local government area [LGA] and public disrespect of the national chairman.
See letter below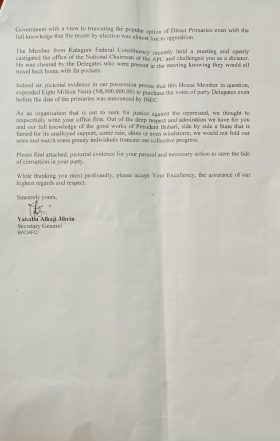 The lawmaker had organized meeting outside the Katagum constituency in Bauchi where the LGA chairman arranged for all the party delegates to attend the meeting. At the meeting, the lawmaker distributed monies to the delegates and made public comments disparaging the national chairman over his supposed mismanagement of the party.
Pictorial evidence of the sharing of supposed bribe money to the delegates was recently published by 247ureports.com titled Failed House Of Rep Member, Ibrahim Baba Allegedly Shares N8m Bribes To APC Delegates. The report which also exposed the lawmaker's inability to relate to the members of his constituency, revealed the lawmaker had been attacked by the youths of his constituency on numerous occasions for his supposed failure at the national assembly.
As the APC primary nears, the aspirants are expected to line up for the exercise. The lawmaker who many believe would not fare well is presently setting the grounds for a subverted exercise.