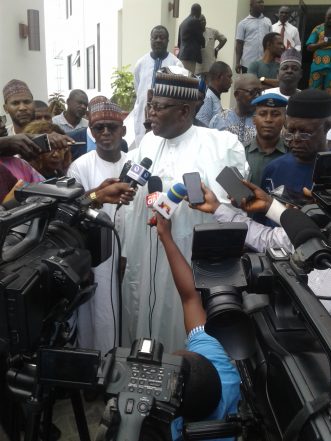 2019: Only PDP Can Instill Sanity In The System…Lamido
From Msughshima Andrew, Makurdi
A presidential aspirant under the platform of People's Democratic Party, (PDP), Alhaji Sule Lamido has solicited the support of Benue people to enable him instil sanity in the Nigerian system.
Lamido also advocated for proper federation and unity of Nigeria as well as harmonious coexistence of one another.
The presidential hopeful spoke when he visited Benue state Governor Samuel Ortom in Makurdi today. He said has come to consult with his party and supporters in the state in realization of his preaidential ambition come 2019.
Lamido noted that Nigeria has a long history of crisis, naming coup de'ta, civil wars among other crisis added that our leaders must put human consideration above other parochial interests.
"We must uphold and stand up for  brotherhood. We should be there for one other; northerners or southerners, easterners or westerners. No Nigerian should die. Our leaders must put human life first and not tribe," he said.
Nigeria is a symbol of the black race meaning leaders should lead by example because other black nations look up to Nigeria for leadership. We must be mindful of what we do because whatever we do affects others.
The former Jigawa state Governor noted with sadness that the ruling All Progressive Congress, (APC) has introduced division leading to venomous agenda aimed at deceiving and defrauding the country.
"Today, there is blood everywhere. We can no longer sleep with our two eyes closed due to killings and kidnapping by undesirable elements nationwide.
"Democracy should address our needs and solve our problems and not imprison us because it is about freedom and rights.
"The APC has demonized and blackmailed the PDP but the APC is a party that strives on falsehood. PDP is the only party with the political history to keep Nigeria united.
"Those of them with chicken heart go to APC for sanctuary and to also be used to create division in the country.
"I share in anxiety of those who advocate that Nigeria should be restructured. APC is a party that strives on propaganda and the money they have stolen is so horrendous and they keep talking about corruption.
But when we come back, we will install integrity in the system.
Lamido insisted that his aspiration is not desperation added "we must work for a united Nigeria and secure the country.
Welcoming the presidential aspirant, Governor Samuel Ortom said Nigeria has come a long way and it is only those who look at its history peripherally that put the coubtey into chaos.
Ortom who was represented by his deputy, Engr. Benson Abounu said too much politicking without measurable action is the cause of Nigeria's underdevelopment.
Ortom who pledged Benue's total support towards the realization of his presidential ambition expressed the confidence that when Lamido gets in as the president, he will turn the country around as he did to Jigawa state when he was governor.
PDP Chairman in the state, Chief John Ngbede described Lamido an as activist and a progressive  saying he is confident that if given the mandate, Lamodo will deliver.