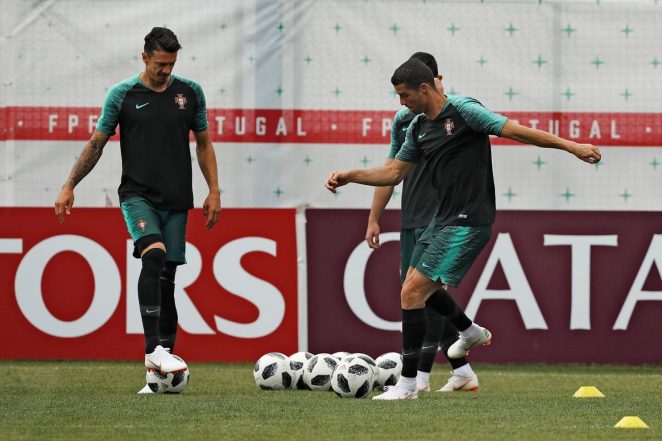 Ronaldo and Portugal look to knock Morocco out of World Cup
MOSCOW — Cristiano Ronaldo was exceptional in Portugal's opening World Cup game and now has a chance to help his team knock Morocco out of the tournament.
Ronaldo scored a hat trick in the opening Group B match against Spain, a 3-3 draw that so far stands as the most exciting game of this year's World Cup. Morocco dominated its opening match against Iran but lost 1-0 on an own-goal by forward Aziz Bouhaddouz in stoppage time.
If Ronaldo plays at the same level Wednesday at the Luzhniki Stadium in Moscow, a Portugal victory would ensure elimination for Morocco.
There is history between these teams, as well as Ronaldo and Morocco center back Mehdi Benatia.
Morocco and Portugal played each other at the 1986 World Cup in Mexico, and the Moroccans won 3-1 to enter the round of 16 while Portugal finished last. The last time Ronaldo and Benatia faced each other was in April in a Champions League quarterfinal match. Benatia, playing for Juventus, pushed a Real Madrid player to draw a penalty. Ronaldo scored and Madrid advanced on its way to a record 13th European title.
Although Ronaldo was spectacular against Spain and his tally included a late free kick, Morocco's defense has not let an opposing player score in World Cup qualifying since 2015.
Against Portugal, Morocco must earn at least one point before Spain plays Iran in Wednesday's late game in Kazan.
Ronaldo is back in action at 3 p.m. (8 a.m. EDT; 1200 GMT).
A look at Wednesday's other matches:
URUGUAY VS. SAUDI ARABIA
6 p.m. (11 a.m. EDT; 1500 GMT)
Luis Suarez will make his 100th appearance for Uruguay when his national team faces Saudi Arabia in a make-or-break Group A game.
Saudi Arabia is winless in the World Cup since 1994, and the team was routed 5-0 by host nation Russia in the opening game of the tournament. Saudi Arabia has finished last in group play in its last three World Cup appearances, has not won in its last 11 World Cup games and has failed to score in eight of the last 10. It did not have a single shot on target in the opener against Russia.
That should make it an easier day for Suarez, who has 51 international goals and is Uruguay's all-time top scorer.
This tournament is a chance for Suarez to play controversey-free soccer at this year's World Cup. He was sent off for a handball against Ghana in the quarterfinals of the 2010 tournament, earning a suspension that had him on the sidelines in a loss to the Netherlands that prevented Uruguay from advancing to the final.
He was suspended for four months after a group match in 2014 for biting Italy defender Giorgio Chiellini. The punishment left Uruguay without Suarez when the team was knocked out of the tournament in the round of 16.
On paper, it appears that two-time World Cup champion Uruguay should easily win the match in Rostov to move on to the round of 16 for the third consecutive tournament.
SPAIN VS. IRAN
9 p.m. (2 p.m. EDT; 1800 GMT)
Spain began the World Cup in disarray after the federation fired coach Julen Lopetegui just 48 hours before its opening match against Portugal. It didn't seem to rattle the team, though, as Spain outplayed Portugal but ended in a 3-3 draw because of Ronaldo's hat trick.
Diego Costa scored twice for Spain to emerge as an early star of the World Cup, but goalkeeper David De Gea had a rough opener. He let a shot from Ronaldo slip through his fingers in a mediocre performance, but the team said he will start against Iran.
"De Gea is feeling fine. Obviously he knows he made a mistake," Spain defender Nacho Fernandez said. "The most important thing is that the team protects him, supports him to death."
Iran goes into the match at Kazan Arena leading Group B after its victory over Morocco and hopes its stingy defense keeps the team on track to advance to the next round.
Iran arrived in Russia with the second best qualifying record in the world in the final stage of Asian play with nine victories in 10 games. Iran gave up only three goals, two in the last match after it had already qualified for the World Cup.
The win 1-0 win over Morocco was a highlight for the national team and takes pressure off the team's chances of advancing.