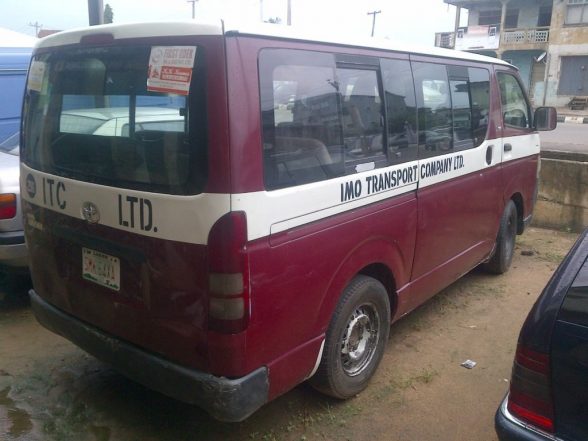 ITC: The Decay Of Imo Pride – By Chilagorom Ifeanyi
Back in the days when excitement, fulfillment and contentment beclouded the disposition of every son and daughter (Citizen) of Imo state "THE EASTERN HEARTLAND" for being associated with the glorious Imo Transport Company (ITC).
It was a period our ITC was really ITC.
THIS is scenario  that ordinarily would have attracted unquestionable posthumous accolade by the commuters  in this regard remains the current  dilapidated , and disgusting condition of this one time pride of Imo State and one of the state owned Commercial Transport Companies in the history of Nigeria.
This brings to mind the struggle for total emancipation and sustainability embarked upon by one of Imo finest writer, (Comrade Edede Franklyne ) sometime in 2008 the rolled out shortcoming, irregularities all maladministration mismanagement of subventions and tax payers hard earned funds by the then management team of ONYEBUENYI. In that said write up, our indefatigable Edede frankyne outlined, listed, dotted the "I"s and crossed the "T"s by pinpointing the gray areas and proffered solutions.
The comrade Edede franklyne expositional exposure injected fear, anger, precaution and temporal shift from the shabby and anti-people way the then onyewuenyi led management team ran the affairs of this seemingly all important Imo Transport Company( ITC) that is expected to add value to the socio -economic wellbeing of both staff and citizens.
Unfortunately today, the impunity, corruption, manipulation, high handedness and obvious underground conspiracy to extinct our own ITC has gained more attention and support. There will never be any amount of cry for proper attention on ITC that will be seen or taken as exaggeration considering the "SORRY NATURE of this our time ITC that was known for its putting Imo on wheels
Indeed the retrogressive manner in which Imo Transport Company (ITC) is run and managed in an acclaimed progressive state, ruled by a progressive rescue government raises eyebrow to its full glare.
One would have expected or believed that the advent of OWELLE ROCHAS OKOROCHA 'S acclaimed progressive Rescue mission would rescued and resuscitated this ailing and "KWASHIOKORED" ITC, going by the way it reiterated his rescue mission government was up to before its emergence, but regrettably, the good and unsuspecting Imolites have suffered the most in all measurement in the hands of ROCHAS OKOROCHA 'S acclaimed rescue mission government.
The most worrisome is the plight of very dedicated, committed and productive workers of this stagnant ITC, while the internal infrastructure put in place by previous administrations prior to this Rochas have been made to remain in perpetual decay without attention for rehabilitation and or replacement, rather loot it dry.
Those handling and looting ITC today without remorse should learn from mature and quickly realize that all is vanity and that every adventure must be accounted for either directly or indirectly. what goes around must equally come around, a stich in time they say,saves nine .
That brings us to the long age wise saying that "A WORD IS ENOUGH FOR THE WISE ". Iet him or her that have ears hear it that a day of reckoning in imo state is coming very close.  A time and period that the bush will be on fire and grasshoppers will never have any time to bid one another farewell.
Remembering that you are going to board a bus for your enhance journey at any particular ITC park anywhere in Nigeria begins your day or nightmare , while non payment of the suffering impoverished staff of this one time celebrated ITC remains the agony of ITC workforce .my question is, when really shall imo be better? The management of ITC ought to understand that work without pay is a crime not only against humanity but also against God.
In conclusion, we are waiting for the day our ITC will be returned to its glorious days.
I rest my case.
Chilagorom Ifeanyi
Writes from Abuja
08036777438, 08169990006.