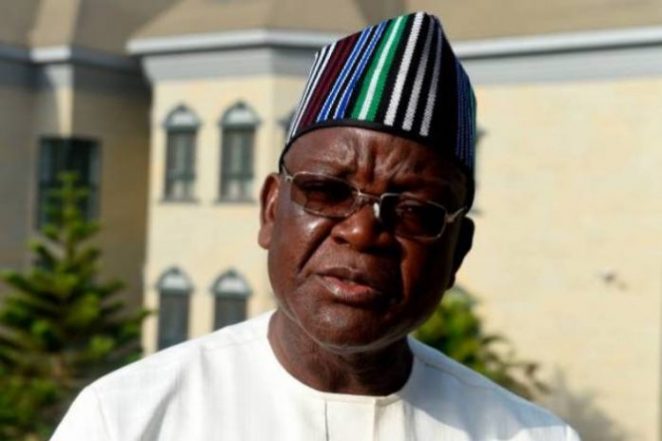 Benue Killings: I Wish I Had Not Gone On Leave…Ortom
Loading ...
From Msughshima Andrew, Makurdi
Following the magnitude of killings by herdsmen and military destructions of houses in Naka during his absence, Benue State Governor Samuel Ortom said he regretted going on his mandatory annual leave.
Ortom who stated this while reacting to the killings in the state as well as the military invasion of Naka in Gwer West LGA told newsmen that his leave was not pleasant because he could not sleep with his two eyes closed.
"It wasn't a pleasant leave. It was difficult to got to sleep while travelling… there was a lot of distortions in my sleep.
"To compound that was the continued attack and the Naka military invasion of our land. With the advent of the social media and internet, whatever was happening here, I was following it bit by bit.
"Those gory picrures of those butchered, those stories of the killings and those scenes of the killings, it was no longer leave to rest. I wish I had not gone on leave, because there was no more need.
"Again, following up on the Acting Governor and the security agencies to ensure that we do not reduce the state into a atate of anarchy where restive youths were ready to take laws into their hands, it was not an easy task.
"And so even though I was on leave,  I could not sleep with my two eyes closed and even when I slept, instead of having sweet dreams, they were bad dreams.
"The pictures of what has happened and what will happen keep resurfacing in my dreams. So it was not a pleasant one. But I pray that this matter will be put behind us so that we can go about our normal businesses.
Ortom who also spoke on the arrest of one his aide, the Commandant of Benue State Livestock Guard, Alhaju Aliyu Tershaku, said he will not interfere or  prevent the arm of the law from descending heavily on any of his appointees who is found to have committed an offence.
Ortom said as a law abiding governor and someone who believes in the rule of law, he will support due process.
He stated that security agencies are at liberty to arrest, detain and investigate anyone who they suspect to be involved in insecurity or perpetrating insecurity.
"So, the arrest of Tershaku is seen as one of those and for me, as you have already been witness, when it comes to issues of security and prosecution, I don't interfere", Ortom insisted citing cases of his two appointees who were suspected for murder charges and were asked to resign.
Speaking further , the Gorvernor said, "I have made my statement aftet his arrest that due process should be followed. He should not be victimized but the security men should be fair to him. He should be investigated and if at the end, he is found culpable, he should be prosecuted", he added.
Tershaku was arrested last week by combined troops of 707 Special Forces Brigade, Nigeria Police and the Department of State Security Services in Makurdi