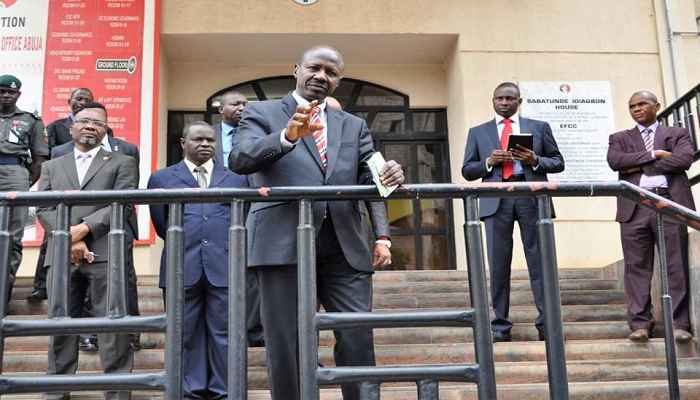 Anti-Graft War: Magu Calls For Reforms In Education Sector
–
Loading ...
Ibrahim Magu, acting Chairman of the Economic and Financial Crimes Commission, EFCC, has urged members of the academia to rise up to the challenges of the 21st century, and to nip in the bud, the rising cases of corruption in Nigeria's tertiary institutions.
"It is ironic that funds allocated for development and researches in the universities are diverted into private pockets by unruly kleptomaniacs," he said.
He also described as unfortunate, a situation where "universities have been turned into contract awarding institutions without regards to rules and regulations attributed to procurement processes".
Magu spoke at the closing event of the two-day retreat for National Universities Commission (NUC) Committee of Vice Chancellors and Pro Chancellors, which held at the NUC head office in Abuja, May 8 to 9, 2018.
Speaking on the theme, "Elements of Statutory Governance, Procurement and Financial Accounting in Nigeria Universities", Magu stressed that the EFCC remained resilient in the fight against corruption.
"We at EFCC are passionate towards engendering accountability and transparency through our proactive mechanism of checkmating corruption and we will remain antagonistic against fraud and every form of corruption in our institutions," he said.
While calling for partnership, he added that: "We may not eradicate corruption completely because it is a crime as long as there are human beings, but we will reduce it if we agree to work together."
He used the opportunity to intimate participants of ongoing efforts of the EFCC at ensuring that anti-corruption course is incorporated into the university curriculum.
"We are partnering with the NUC to develop a robust curriculum in economic crimes and anti corruption which will be integrated into the university system," he said.
Magu acknowledged the strides in the educational sector, with the production of great minds like Prof. Iliyasu Bakarau, Prof. Wole Soyinka and the late Prof. Chinua Achebe, but noted that recent developments now place the citadels of learning as an environment rift with corrupt practices, maladministration and diversion of public funds.
"Our universities must endeavour to change the current negative narrative regarding the quality of education in Nigeria," he said.