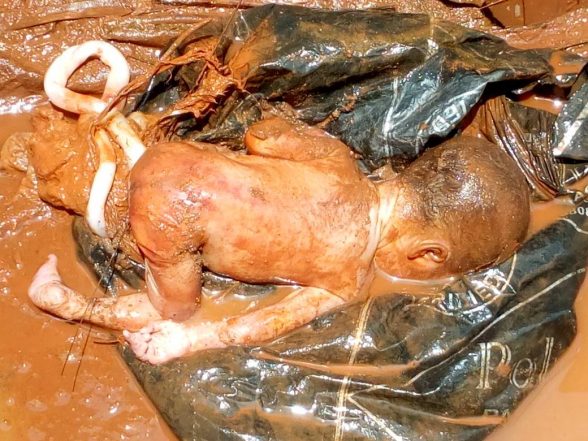 Day Old Baby Dumped In Drainage In Anambra
Loading ...
By Nedum Noble
A day-old baby girl was at the weekend, found dead inside water channel at the popular Miracle Junction in Ifite-Awka, Awka South Local Government Area of Anambra State.
The body of the deceased was said to have been discovered by residents of the area at the early hours of the day.
It was learnt that the baby had been carried away by flood from where it was earlier dumped before it was finally discovered within the area.
Some of residents described the action as abomination, said they woke up that fateful morning to discover the corpse of the baby.
One of them, who spoke on condition of anonymity, rained all manner of curses to the person responsible for the action, wondering what could have led to that.
"We woke up today to see a day old girl that was dumped inside water channel. The baby was dumped elsewhere, but rainfall pushed it down to the junction due to the sloppy nature of the land.
"This is a sign that the world is coming to an end when people no longer have regards for human lives. It will not be well with whoever that have done this," he said.
Another woman, who gave her name as Uju, cautioned women against killing of innocent souls, saying the consequences could be disastrous.
"Some women have no children today because of the heinous atrocities they committed during their youthful age," she said.
She called on relevant authorities to come and dispose the corpse before it decayed.