Wonder Bank: Court Remands Two In Prison
Loading ...
The Uyo zonal office of the Economic and Financial Crimes Commission EFCC, on Wednesday March 21, 2018, arraigned Joshua Jude Asemota and Churchill Godwin Amaechi before Justice M. I. Sani of the Federal High Court, Uyo Akwa Ibom State, on a thirty count charge bordering on obtaining by false pretence and operating a financial institution without license. 
The offence contravenes Section 8 (a) and 1 (1)(a) of the Advanced Fee Fraud and Other Frauds Related Offences Act of 2006, and punishable under Section 1 ( 3 ) of the same Act and section 56 of the Banks and Other Financial Institutions Act of 1991.

The duo was arraigned along with their company Global Divine Rich Resources which was not registered to operate as a financial institution.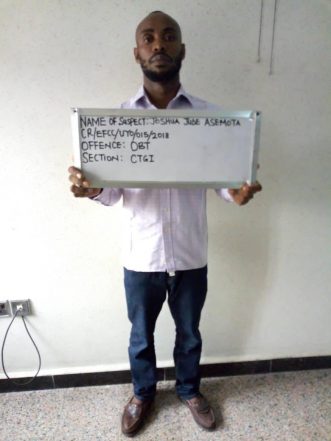 The defendants pleaded not guilty to the charge preferred against them by the EFCC. 
In view of their plea, the prosecuting counsel Nwandu k. Ukoha prayed the court to fix a date for trial and remand the accused persons in prison custody.
But the defence counsel, Ndude Otong immediately urged the court to grant the accused persons bail on the grounds that bail was a constitutional right and that the offence was bailable.
Ukoha, however, opposed the oral bail application by the defence and quickly informed the court of the forged documents presented by the accused persons to the EFCC in a bid to facilitate an administrative bail. "My Lord, I have to inform the court at this point that the defendants were granted administrative bail and they presented forged documents to us (the EFCC), and this discovery was made during investigation. My Lord,  if they did that at our office (EFCC), who knows what they will do here. They should come properly before the court and make a formal bail application; these persons are capable of anything my lord. Here is the letter from Ministry of Lands that the documents of claim by the accused persons were forged. My Lord,  we are not witch hunting anybody, but this is a renowned court of record and this should be on record," he said.
Justice Sani upheld the arguments of the prosecution and ruled that the application for bail be properly filed, while the accused person were to be remanded in prison custody.
The case was adjourned to March 27, 2018, for hearing bail application and trial.